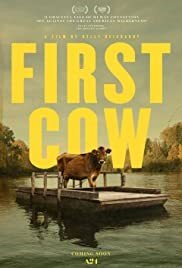 For our March discussion, Sheila Ellis chose FIRST COW, released last year.
This amusingly titled film tells the story of a couple of 1820s entrepreneurs, a cook named Cookie Figowitz (John Magaro) and King Lu (Orion Lee), a Chinese immigrant Cookie finds cold and shivering in the Oregon woods. These two don't quite fit in. Cookie cooks for a group of rough trappers who would prefer something other than the mushrooms he picks. He befriends King Lu, who may or may not be a murderer, and one night they discover a lone cow in the woods. Cookie knows cow's milk makes for a prime ingredient for "oily cakes," fried dough brushed with honey and a sprinkle of cinnamon, so he milks the bovine while King Lu keeps watch. Their "oily cakes" become a big hit in town, until the cow's owner, the governor at Fort Tillicum (Toby Jones) realizes the nightly thefts.
It's a charming idea, even comedic in its possibilities. The performances are all quite good. Shot on location in Oregon, much of it is lush to look at, however many of the nighttime sequences are so dark it's hard to tell what's going on.
The main problem, though, is the tediousness. Director, co-writer and editor Kelly Reichardt, whose earlier film, MEEK'S CROSSING, was also ponderous, opens this film in present-day Oregon with a shot of a barge moving down the river. We see the bow of the long ship peeking out from screen left and Reichardt holds on it as we watch it slowly move across the screen until the whole barge is revealed. The shot continues to hold as it keeps going, the bow nearing screen left before Reichardt then cuts. Later, Cookie walks through the woods picking those mushrooms, then some more, and a few more. A number of scenes play this way, but even on occasion when they don't, the film does not recover. And while we get a shot of the cow early on, it's a good hour into the film before the cow reappears and the plot finally gets going.
FIRST COW is available for purchase on Amazon Prime.
Along with Sheila, our group includes Johnny D. Boggs, record eight-time Spur Award-winning and Owen Wister Award-winning author whose latest work is A THOUSAND TEXAS LONGHORNS, Kirk Ellis, Emmy-winning screenwriter and producer of HBO's JOHN ADAMS and TNT's INTO THE WEST, David Morrell, award-winning author and New York Times best-selling author of FIRST BLOOD, and Robert Nott, award-winning journalist and author of several books on Western films, including his most recent THE FILMS OF BUDD BOETTICHER.
Preview "First Cow" below