We met last night for our Western Night at the Movies get-together and Robert Nott chose two truly "Wild West" features.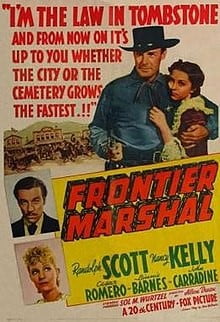 ​The first was FRONTIER MARSHAL (1939) one of the first films to tell the story of Wyatt Earp and the gunfight at the O.K. Corral. FRONTIER MARSHAL does have Wyatt Earp (played by Randolph Scott) in the town of Tombstone and there is a gunfight at the O.K. Corral, but that pretty much is the extent of the history presented in the film. But don't get me wrong. It's that so much is eliminated, changed, and made up that makes it so enjoyable.
It doesn't have Doc Holliday, but does have Doc Halliday (Cesar Romero). And his former love interest (Nancy Kelly) comes to Tombstone looking for him. There's also a dance hall girl (Binnie Barnes) who loves Doc. If this sounds familiar, it should. A few years after this film came out, John Ford made MY DARLING CLEMENTINE, also produced by 20th Century-Fox. Both films were based on the same novel written by Stuart N. Lake and both films toss much of the history out the window. They also feature actor Charlie Stevens in the role of Indian Charlie who Earp drags out of a saloon early in both films.
But while CLEMENTINE is the superior film, with better actors and a superb visual style, it's hard not to like FRONTIER MARSHAL for it's, well, let's call it audacity. For one thing, Binnie Barnes plays her dance hall girl like a moll from a James Cagney gangster movie. The only thing missing is the gum chewing. And there's the climactic gunfight with Earp going to face the bad guys at the O.K. Corral, alone, and at night!
Directed by journeyman filmmaker Allan Dwan, best known for SANDS OF IWO JIMA starring John Wayne, MARSHAL is a fairly tight 71 minutes, though some of the dialogue scenes in the middle tend to drag.
However, Dwan's next Western, TRAIL OF THE VIGILANTES, released the following year and running 79 minutes, showcased his expertise at directing action, something he learned during his silent film days making adventure films with Douglas Fairbanks.
TRAIL tells the story of an undercover investigator (Franchot Tone) sent to Pleasant Valley to investigate the murder of a newspaper reporter. Along with Broderick Crawford as a gruff cowboy and Andy Devine as comic relief, there are a couple of barroom fights, wild shootouts, a chase across rooftops, as well as some fancy horseback riding, crazy bullfighting (though the bull appears to be a cow with horns taped on) and slapstick galore. After watching it, we all agreed that "madcap" pretty much summed it up.
FRONTIER MARSHAL and TRIAL OF THE VIGILANTES are available on youtube.
Along with Robert, an award-winning journalist and author of THE FILMS OF BUDD BOETTICHER, our group includes Johnny D. Boggs, a record eight-time Spur Award winning author, Kirk Ellis, Emmy award-winning screenwriter and producer of HBO's JOHN ADAMS and TNT's INTO THE WEST, and David Morrell, award-winning author and New York Times best-selling author of FIRST BLOOD and MURDER AS A FINE ART.