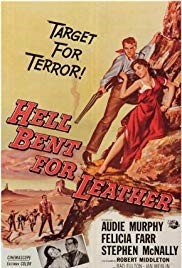 It was Robert Nott's turn to choose the films for our latest Western Night at the Movies gathering and he brought two pictures starring Audie Murphy. The first was an early episode from Murphy's short-lived 1961 television series, WHISPERING SMITH, in which he played a Denver lawman. Entitled "The Grudge," it tells a story of a family seeing revenge for the death of their father who was shot and killed by Smith years earlier. The mother of the family is nearly maniacal in her quest, seeing to it that her son, who's lightning fast with a gun, gets Smith into the street for a showdown. The episode isn't awful, but it is a misfire. Significantly, though, it features a young Robert Redford in his first television role.
Robert's main feature was HELL BENT FOR LEATHER (1960). This tale of mistaken identity opens with Clay Santell (Audie Murphy) getting clobbered by a fellow toting a fancy shotgun who then steals Santell's horse. But Santell manages to get a shot off, wounding the robber who drops his shotgun. With the shotgun in hand, Santell wanders into a small town where some of the folks recognize that fancy gun as belonging to a killer named Tanner. Marshal Deckett (Stephen McNally), who's been after Tanner, arrives and arrests Santell, even though he knows he's got the wrong man, all because he wants to be a hero and collect the reward money. Santell manages to escape, takes a young woman named Janet (Felicia Farr) hostage and flees in hopes of proving his innocence. So far, an engaging set-up.
But then the marshal forms a posse of townsmen and starts doing crazy things that make no sense, apparently going mad in his pursuit of an innocent man. Meanwhile, Santell and Janet on foot get caught in a torrential rainstorm, find refuge in an abandoned shack and suddenly, three outlaws happen to show up. While Santell and Janet do need horses, it's, well, very convenient these bad guys appear when they do. The film does manage to right itself later, though there are some odd twists, making it overall an interesting misfire. And often times, we glean as much from the misfires as we do from the surefires.
Directed by George Sherman, who made a name for himself in the thirties and forties directing B Westerns, and written by Christopher Knopf, perhaps best known for his script for THE EMPEROR OF THE NORTH, HELL BENT FOR LEATHER sometimes runs on the Starz Western channel.
Along with Robert, an award-winning journalist and author of LAST OF THE COWBOY HEROES: THE WESTERN FILMS OF RANDOLPH SCOTT, JOEL McCREA , AND AUDIE MURPHY, our group includes Johnny D. Boggs, winner of a record eight WWA Spur Awards, Kirk Ellis, Emmy-winning writer of HBO's JOHN ADAMS, and David Morrell, New York times best-selling author of FIRST BLOOD.