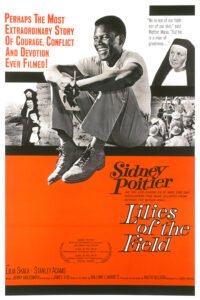 A charming contemporary Western, LILIES OF THE FIELD (1963) was my choice for our latest Western Night Movie gathering.
It tells the story of a traveling handyman named Homer Smith (Sidney Poitier) who, while driving through the Arizona desert, needs water for his station wagon. He spies an old adobe house off the road, pulls in and finds five nuns living there trying to farm the place. They are refugees who escaped from Eastern Europe and only one of them speaks English, hard-nosed Mother Maria (Lilia Scala) who sees Homer, a Baptist, as sent by God to build a chapel in the desert.
What follows is a test of wills, often humorous, sometimes harsh, as Homer says he will help them, but makes it clear he expects to be paid. He and Mother Maria spare back and forth about his payment, and more. He also helps teach the nuns useful English, and a joyful gospel spiritual called "Amen." (Vocalist Jester Hairston dubbed Poitier's voice for the song as Poitier was tone deaf.)
Producer/director Ralph Nelson, having just completed Rod Serling's REQUIEM FOR A HEAVYWEIGHT, loved this story that featured a Black man as the hero and showed how a community comes together.  Based on a novel of the same name by William E. Barrett with a screenplay by James Poe, Nelson shot the film near Tucson, Arizona, on property that was owned by Linda Ronstadt's family. He had a 14-day shooting schedule and a small budget.
Sidney Poitier, whose credits at that time included BLACKBOARD JUNGLE and THE DEFIANT ONES, wanted to be in the film so much that he took a significant pay cut. He also won the Academy Award for best actor, the first Black man to do so. Lilia Scala was nominated for best supporting actress, Poe for his screenplay, Ernest Haller for his black-and-white photography, and the film garnered a nomination for best picture.
With a running time of 94 minutes, it is available on Amazon Prime to rent or buy, and on Blu-Ray and DVD.
Our group includes Johnny D. Boggs, record nine-time Spur Award-winning author and Owen Wister Award winner whose work includes LONGHORNS EAST, Kirk Ellis, Emmy winning screenwriter and producer and also author of the book RIDE LONESOME about the production, themes and historical relevance of that classic Western film, Kirk's wife, Sheila, David Morrell, award-winning author and New York Times best-selling author of FIRST BLOOD, the novel that introduced the character Rambo, and Robert Nott, award-winning journalist and author of several books on Western films, including his most recent THE FILMS OF BUDD BOETTICHER.