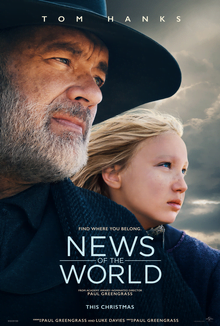 It was Kirk Ellis's choice for our February film and he chose last year's NEWS OF THE WORLD.
Based on the novel of the same name by Paulette Jiles, a National Book Award finalist (which I have not read), the story is set five years after the end of the Civil War in Reconstruction Texas still occupied by Union army soldiers. Former Confederate Captain Jefferson Kyle Kidd (Tom Hanks, always engaging) must deliver Johanna (Helena Zengel in a terrific performance), a nine year old girl, to her German aunt and uncle in South Texas. The girl had been held captive by Kiowas for the last four years and speaks no English, little German but plenty of Kiowa. She is scared and does not want to go. Kidd, a man who makes his living going from town to town reading recent newspaper stories¾the news of the world¾to the citizenry and charging a dime a head, is not eager to take Johanna. He speaks a word or two of German but no Kiowa.
Their 400-mile odyssey is most perilous, and episodic. Bad men offer to buy little Johanna from Kidd and when he refuses, there's a chase and gunplay. (It's a pretty good sequence.) Later, rogue Texans kidnap them. Losing their wagon, Kidd and Johanna must set out on foot across a parched wasteland.
Yet, for these and all the other difficulties they face, the real heart of the journey concerns two damaged people who come to realize they need each other to survive. Director Paul Greengrass, best known for the Jason Bourne film series, who co-wrote the screenplay with Luke Davies, reveals this not in stretches of dialogue between Kidd and Johanna who don't know each other's language, but through their actions. Always a good thing in a film.
However, there's a scene when Kidd and Johanna face a dire predicament and are in desperate need of a horse. The resolution that plays out is one of the most unbelievably convenient moments in a film I can recall seeing in many years.
That aside, though, the main drawback is pace. While some may consider the unfolding of the story to be measured, others may find it just slow. For me it's the latter: even at one hour and 58 minutes, the film feels overly long.
It is available on demand. Go to NewsOfTheWorldFilm.com for more information.
Along with Kirk, Emmy-winning screenwriter and producer of HBO's JOHN ADAMS and TNT's INTO THE WEST, our group includes Johnny D. Boggs, record eight-time Spur Award-winning author and Owen Wister Award winner whose latest work is A THOUSAND TEXAS LONGHORNS, Kirk's wife Sheila, David Morrell, award-winning author and New York Times best-selling author of FIRST BLOOD, the novel that introduced the character Rambo, and Robert Nott, award-winning journalist and author of several books on Western films, including his most recent THE FILMS OF BUDD BOETTICHER.