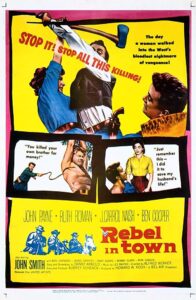 For our latest viewing, Robert Nott chose REBEL IN TOWN (1956), an engaging B-Western I had not seen before.
When three ex-Confederate brothers ride into a small town to water their horses, a little boy gets shot. It's an unfortunate accident, but it sets in motion a morality tale of vengeance versus forgiveness, deceit versus honor, right versus wrong.
The screenplay by Danny Arnold (who would go on to a successful tv sit-com career that included BEWITCHED and BARNEY MILLER), tells the story from the standpoint of the two families affected by the killing. John and Nora Willoughby (John Payne and Ruth Roman), who have lost their son, each deal with their loss differently; one wanting revenge, the other wondering how much killing is enough. And Bedloe Mason (J. Carrol Naish), a former Confederate officer who quotes the Bible and is on the run with his four sons after robbing a bank, realizes his scoundrel of a son, Wes, (John Smith) made a bad choice, and that a harsher choice must soon be made. Mason's youngest boy, Gray (Ben Cooper), the conscience of the kin, knows what must be done.
The black and white photography effectively adds to the tense, stark proceedings, though there are moments where things are missing, like when the marshal says nobody is getting in the jail to take his prisoner, but moments later, the mob comes in, forcing an armed deputy back, but the marshal, who was just there, is nowhere to be seen. Also, considering this was made in the mid-fifties, it contains some startling violent moments. (The one sheet ad offers a little preview.)
With a running time of 78 minutes, REBEL IN TOWN is available on tubitv.com (with commercial breaks), for rent on Amazon Prime, and on DVD.
Along with Robert, award-winning journalist and author of several books on Western films, including THE FILMS OF RANDOLPH SCOTT and his most recent THE FILMS OF BUDD BOETTICHER, our group includes Johnny D. Boggs, record nine-time Spur Award-winning author and Owen Wister Award winner whose work includes A THOUSAND TEXAS LONGHORNS, Kirk Ellis, Emmy-winning writer and producer of HBO's JOHN ADAMS and TNT's INTO THE WEST, Kirk's wife, Sheila, and David Morrell, award-winning author and New York Times best-selling author of FIRST BLOOD, the novel that introduced the character Rambo.
REBEL IN TOWN MOVIE TRAILER