Blood West: A Gothic Western
Summer, 1885. Something inexplicable has come to the railroad town of Las Vegas in the Territory of New Mexico. Asked to investigate, the Pinkerton Detective Agency sends their best detective. Her name is Hattie Lawton. But no one can know her true identity or why she has been sent, because, as Hattie knows well, no one can keep a secret. She poses as a nurse, hired to tend the consumptive patients staying at the Montezuma, the newest and grandest hotel in the famous Harvey House chain. Finding information proves difficult for Hattie. Deputy Sheriff Antonio Valdes resents her attempts. Father John Lanigan fears her, but something else frightens the priest even more: a creature that some people swear can change its shape—a creature that is afraid of nothing.
ALSO AVAILABLE AT:
AS FEATURED ON VOICES OF THE WEST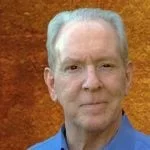 Tom has always had a love of the West, of film and of writing. Born and raised in San Diego, California, he attended the University of Southern California. He spent more than twenty years in Hollywood working as an assistant film editor, as well as freelance writing. Devoting himself to writing historical fiction full-time, he and his wife Marilyn moved to Santa Fe, New Mexico, where they adopted their cat, Cody, whom they are home schooling with great success.