California's famous outlaw Joaquin Murieta: Fact and legend in The Pursuit of Murieta
Who was Joaquin Murieta? Depending who you asked in California in 1853, he was either a bandit and sadistic killer, or he was a Robin Hood fighting tyranny and discrimination by stealing from the wealthy to give to the poor.
I discovered that Joaquin Murieta is a mix of both fact and legend. And there's still much that cannot be agreed upon.
There is agreement that he arrived in California in early 1850 during the Gold Rush fever that gripped the infant state.
Click for More about The Pursuit of Murieta
He came north from Sonora, Mexico. Others claim it was from a little village in Chile. He may have had Cherokee ancestors, according to one source. Another says he was the son of a rich Mexican landowner.
He brought his young wife with him. Or maybe it was his girlfriend and they were eloping. Some say the woman was his mistress.
Murieta intended to make his fortune in California by mining for gold. He had a brother already living in Northern California. Or somewhere in California. At least north of Santa Barbara.
A foreign miners tax had been imposed by the state requiring all the Mexicans and Chinese, of which there were many in California then, to purchase a license that was also required to be renewed every thirty days. That monthly payment was $20, equal to around $700 today. The tax was meant to discourage them from mining at all and, preferably, to make them leave California altogether.
Murieta apparently wasn't that lucky at mining or panning for gold and learned to deal monte. Others say faro. Maybe both. At any rate, discouraged instead of rich in those first few months, he headed back to Mexico with his wife/girlfriend/mistress. But they encountered a group of Anglos spoiling for a fight. They raped his woman and horsewhipped him.
Some say they killed her, and others say that she lived and returned to Mexico. Murieta, however, remained in California, raised a band of outlaws and began taking vengeance on every miner they found, killing them and taking their gold. And most agree all those miners they went after were the Anglos and the Chinese.
By early 1853, newspaper stories began appearing about a gang of bandits, led by a man named Joaquin, robbing mining camps up and down the foothills of the Sierra Nevada Mountains. By early March this gang was credited with having outrun at least three posses, stolen more than 100 horses, killed at least 19 people, most of them miners and many of them Chinese, and gotten away with perhaps as much as $100,000 in gold. And, it is believed that in one encounter, a bullet grazed Joaquin's cheek leaving a mark.
But the question was: which Joaquin did the bullet graze?
You see by this time, there were five other bandit gangs reportedly pillaging the state, each with a leader named Joaquin. Their last names were: Botellier, Ocomorenia, Valenzuela, Carillo and Murieta. They soon became known as the Five Joaquins.
Meanwhile, rumors spread that a network of Mexican communities were assisting the Joaquins and their gangs, providing refuge, information and supplies in return for a share of the spoils. Hard evidence of this was difficult to come by, nevertheless, plenty of people believed these rumors.
An incident published in the San Joaquin Republican on Feb. 23, 1853, gives a clue as to how Murieta's legend was so quickly established. A posse of men chasing a gang believed to be led by one of the Joaquins around Calaveras County thought they had the gang surrounded in the high grass of a chaparral but even when reinforcements of a hundred men showed up the next day, this large posse came up with nothing. When the gang stole some fresh horses about six miles away, the posse was hot on the trail again but never caught them.
Newspaper reports became more ominous and more frequent. The Los Angeles Star asked: "How much longer must we wait before something is done? When will the red hand of murder be stayed?" The Daily Alta California demanded to know: "When will a bold, unflinching voice speak in thunderous tones against the abuses and daring outrages being perpetrated nightly throughout our state against our citizens by this unchecked banditry?"
On May 28, 1853, the State Legislature authorized the raising of two companies of California Rangers. Captain Harry Love, a Texan, would lead 20 men in Northern California and Captain Alexander Hope headed the other 20 in scouring Southern California for the express purpose, the Legislature stated, of "apprehending Joaquin." They had three months, no more. Each man would be paid $150 per month.
But a problem arose. Bringing in Joaquin alive could prove difficult. And if dead, hauling the body to the state capital from miles away posed other problems. Bringing in his head seemed a solution. Meanwhile, Governor Bigler thought that offering a reward might add incentive to finding this bandit.
A report from the Legislature's Committee on Military Affairs expressed concern that the offer of a reward "would be likely to stimulate avarice, and result in dozens of heads, similar in some respects to that of Joaquin, being presented for verification."
1853 was an election year and Governor Bigler wanted a second term. So he added a $1,000 reward. The wanted posters read: A reward is hereby offered on the head of the notorious bandit Joaquin!
It didn't matter which Joaquin.
Throughout June and most of July the two Ranger companies searched across the state and found no Joaquins.
Then on July 25, in an area called Arroyo Cantua, southwest of Fresno, Captain Love and his men spied the smoke of a campfire about three miles out on the grassy plain.
An August 4 letter from Love to the governor details his version of the encounter as they rode up to the Mexican's camp: "Joaquin was immediately recognized and on his being aware of the fact, immediately sprang to his horse and endeavored to escape. He was closely pursued … and his horse shot from under him. Being wounded, he took flight on foot, and some of the men shot him dead … The remaining part of the outlaw band, fought bravely while retreating, each of them being armed with two six shooters. Three of their numbers were killed, while the remainder escaped, some badly wounded. Immediately after returning from the pursuit we beheaded Joaquin…"
That would seem to be the end, except it wasn't.
The head was placed in a large glass jar and put on public display. Over the next two weeks, inhabitants of the cities of Stockton and San Francisco were invited to view the head. The charge: one dollar per person.
Before the gunfight, descriptions of Joaquin Murieta gave him black hair and black eyes. The head presented to the public as Murieta's had blue eyes and brown hair with a "golden tint," according to the San Francisco Herald. Under the right cheek was a scar, however, which was the same place Murieta was rumored to have been wounded in a previous gunfight.
Half the papers in the state concluded the head on display was indeed that of Joaquin Murieta. And the other half was just as adamant that it was not.
Governor Bigler gave Love and the rest of the Rangers the $1,000 reward. The governor was also reelected.
The head and the jar were lost during the San Francisco earthquake of 1906. It was being held in either a museum or a saloon, depending on which report you read.
All this fact and myth made me think, what if Murieta had had enough of California and was on his way back to Mexico? As he passed near the small adobe town of Los Angeles, a small detachment of Rangers received reliable word he was close by and gave chase into the mountains. Wounding him, they must wait through the night before returning with him to Los Angeles. And what if some of the Rangers believed him when he says he's Murieta and others did not?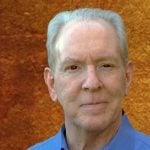 Tom has always had a love of the West, of film and of writing. Born and raised in San Diego, California, he attended the University of Southern California. He spent more than twenty years in Hollywood working as an assistant film editor, as well as freelance writing. Devoting himself to writing historical fiction full-time, he and his wife Marilyn moved to Santa Fe, New Mexico, where they adopted their cat, Cody, whom they are home schooling with great success.