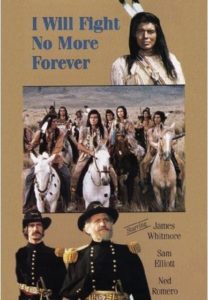 Our Western Night at the Movies group met this past Thursday and  selected the 1975 made-for-television film, I WILL FIGHT NOT MORE FOREVER. It tells the story of Chief Joseph, leader of the Nez Perce tribe in the serene Wallowa Valley in Oregon in 1877, who was ordered by the US government to move the tribe to a reservation, but refused and made a run for the Canadian border. In an attempt to evade capture, he led his people–men, women and children–1,600 miles through Idaho, Wyoming and Montana with three units of the U.S. Army in pursuit. After eleven weeks, they were within 40 miles of the Canadian border when, exhausted by nearly a dozen running battles with the Army, Chief Joseph surrendered.
The script by Theodore Strauss and co-writer Jeb Rosebrook, who also wrote JUNIOR BONNER, deftly balances the story between Chief Joseph (Ned Romero) and General Oliver O. Howard (played by the always reliable James Whitmore), who lost an arm during the Civil War. A couple of overly preachy speeches stop things, but only for a few moments. The performances by Romero and Whitmore are exceptional, their characters shaded with both courage and frailties.
Sadly, the limitations of the TV movie budget are apparent. For example, the various battle scenes appear to be shot at the same location only from different angles. But, that aside, the film is still remarkable and recommended.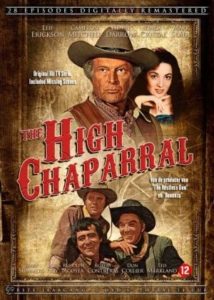 Kirk's second choice was the pilot of the TV series THE HIGH CHAPARRAL, that ran from 1967 to 1971, about tough rancher Big John Cannon (Leif Erickson) carving out a cattle empire in old Arizona. I didn't watch the show during its original run, but it did offer a few surprises, as well as a bit of soap opera, as Cannon deals with Apaches, Mexican vaqueros and his family including his rowdy brother (Cameron Mitchell, always good) and Billy Blue (Mark Slade), Cannon's son who has much to learn about life.
Along with Kirk, Emmy-winning screenwriter and producer of INTO THE WEST and HBO's JOHN ADAMS, our group includes Johnny D. Boggs, a record eight-time Spur Award-winning author, David Morrell, award-winning author and New York Times best-selling author of FIRST BLOOD, and Robert Nott, award-winning journalist and author of THE FILMS OF BUDD BOETTICHER.
Below is a short from the movie.