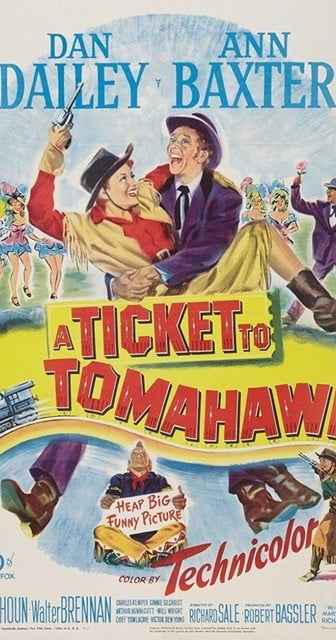 Last evening at our Western Night at the Movies gathering, Robert Nott brought one of the most charming and delightful Western comedies I've ever seen. A TICKET TO TOMAHAWK (1950), directed with a light touch by Richard Sale who co-wrote the screenplay with his wife, Mary Loos, runs a tight 90 minutes and tells the darnedest tale.
Smooth-talker Johnny Jameson (Dan Dailey), a magazine drummer, has been ordered out of town by feisty Kit Dodge, (Anne Baxter, fresh off filming ALL ABOUT EVE), the new deputy sheriff just sworn in by the ailing sheriff, who happens to be her grandpa. The next train leaves for the town of Tomahawk and Johnny's the only passenger on it because no one wants to ride the new train. The reason is that the stagecoach line was put out of business due to the new and faster train line and the stage owner has been trying to blow up the locomotive.
You see, the new train line must reach the town of Tomahawk, some sixty miles away, in the next few days or lose its charter and be out of business. Problem is, parts of the track still haven't been laid so a twenty-mule team is brought in to haul the locomotive through winding Colorado mountain passes. Protecting the train is Kit and some railroad boys, along with Dakota (Rory Calhoun), who actually works for the stage line and has orders to stop the train any way he can.
A self-described "born traveling man," Johnny knows a lot about life, and he sees Kit starting to fall for the dark-eyed handsome bad guy.
And this is only the first fifteen minutes!
There are Arapahoe Indians trying to stop the iron horse, a bevy of dancing girls on their way to Tomahawk, (including Marilyn Monroe in an early role) and a whole slew of surprises.
Shot mostly on location in Colorado around Silverton and Durango, A TICKET TO TOMAHAWK is as scenic as it is fun. And it's available on Youtube.
Along with Robert, award-winning journalist and author of THE FILMS OF BUDD BOETTICHER, our group includes JOHNNY D. BOGGS, record eight-time Spur Award-winning author whose works include RETURN TO RED RIVER, and David Morrell, award-winning author and New York Times best-selling author of FIRST BLOOD. Kirk Ellis, Emmy-winning screenwriter and producer of HBO's JOHN ADAMS and TNT's INTO THE WEST, was away.
Watch "A Ticket To Tomahawk" Below