When you think of Charles Bronson movies, say CHATO'S LAND, ONCE UPON A TIME IN THE WEST or DEATH WISH, goofy fun isn't likely to come to mind. But it perfectly describes BREAKHEART PASS (1975), my choice for our Western movie gathering last night.
Based on the novel of the same name by Alistair MacLean, best known for his thrillers set during WWII, (THE GUNS OF NAVARONE and WHERE EAGLES DARE to name a couple), BREAKHEART PASS was his only Western. He adapted his novel to the screen and while the film does have a few little problems, they are quickly negated because it engages you right away and moves so quickly that you never know what's going to happen next, or to whom.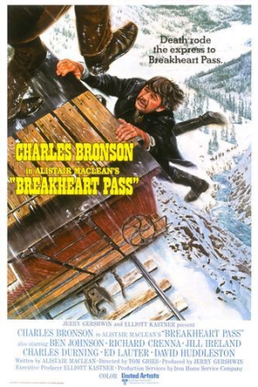 Not surprisingly, McLean's story is a thriller at its heart. A special train carrying needed medicine to combat a reported diphtheria outbreak at snow-bound Fort Humboldt up in the Sierra Nevadas also carries special passengers on this mission of mercy. They include Governor Fairchild (Richard Crenna), his girlfriend Marica (Jill Ireland), who is also the daughter of the fort commander, Reverend Peabody, (Bill McKinney), Dr. Molyneux (David Huddleston), Carlos the cook (former heavyweight boxer Archie Moore), Major Claremont (Ed Lauter) and his platoon of soldiers, Deputy Marshal Pearce (the always dependable Ben Johnson) and the marshal's prisoner, John Deakin (Charles Bronson) who is wanted on federal charges. From the beginning, you get the feeling that nobody is who they appear to be. And the suspicious looks every character throws at every other character for the first half of the movie are so obvious and yet, they add to the goofy enjoyment. The director, Tom Gries, who helmed the outstanding Western WILL PENNY a few years before, demonstrates a sure hand for the genre. There is also the added treat of one of composer Jerry Goldsmiths's best themes. Like his scores for PATTON, CHINATOWN and L.A CONFIDENTIAL, (all Oscar nominated; he did win the Oscar for THE OMEN), his score truly drives this film. I can't get that theme out of my head it's so good!
I don't want to give away anymore of the story except to say there are delightful twists, turns, surprises and coincidences that make BREAKHEART PASS a terrific film to sit aback and enjoy, a real popcorn movie.
In attendance last night were Johnny D. Boggs, seven-time Spur Award winning author, David Morrell, award-winning author and New York Times best-selling author of FIRST BLOOD, and Robert Nott, award-winning journalist and author of THE FILMS OF BUDD BOETTICHER and co-author of a memoir about Sam Peckinpah with Max Evans. Kirk Ellis, Emmy-winning writer and producer of JOHN ADAMS and INTO THE WEST, was away.