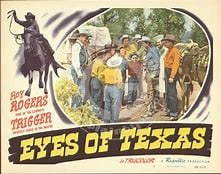 Last night at our Western Night at the Movies gathering, David Morrell, New York Times best-selling author of FIRST BLOOD, curated the films. His first selection was an episode of the Western TV series LAWMAN that ran from 1958 to 1962 and was based on the idea of a Wyoming town marshal (played by John Russell) showing a young deputy (Peter Brown) the ropes of enforcing the law. The episode, entitled "The Outcast," featured guest star Martin Landau as Robert Ford, the "dirty little coward" who shot Jesse James in the back. Ford arrives in town and is quickly recognized by some of the citizens and cattle drovers who want to string him up. The marshal takes Ford to the jail for his own protection and then must face down the armed mob. It's an effective half hour, made all the more remarkable in that no shots are fired.
Conversely, David's main feature, EYES OF TEXAS (1948), starring Roy Rogers, contained plenty of gunfire. Though I was never a fan of Roy's, he was the number one cowboy box office star from 1943 to 1954, and this film may well be the most violent of his career. He plays a U.S. Marshal sent to investigate the murders of local citizens by a pack of ravenous wolves. Turns out the wolves are actually dogs owned by an elderly female attorney, and she's a nefarious one! She had the dogs trained to kill because she wants to get her hands on land owned by a kindly gentleman, one of her clients (!), who runs a camp for boys who lost their fathers in WWII.
Bizarre as it sounds, this movie is noirishly dark and surreal as we witness Roy hogtied and dragged behind a horse (you can tell in the long shots it's a dummy). Later, he's beaten, bloodied and whipped by four of the old lady's henchmen. Roy's famous and trusted palomino, Trigger, arrives in the nick of time to save Roy a couple of times, as well as soothing one of the vicious dogs that was wounded during an earlier chase. There's also groan-inducing buffoonery, like when someone ducks as a bucket of water is thrown and an unsuspecting costar gets drenched, twice! And Roy sings some songs with accompaniment by the Sons of the Pioneers, though for me they stopped the action cold.
Kudos to director William Whitney, who directed many of Roy's serial Westerns in the forties and fifties, for some exciting and elaborate stunts, like a runaway shootout between bad guys in one wagon and good guys in another.
Also in attendance last night were Johnny D. Boggs, who just won his record-setting eighth Spur Award for his novel, TAOS LIGHTNING, and Robert Nott, award-winning journalist and author of THE FILMS OF BUDD BOETTICHER and co-author of a memoir about Sam Peckinpah with Max Evans. Kirk Ellis, Emmy-winning writer and producer of JOHN ADAMS and INTO THE WEST, was away.
Watch the full movie below