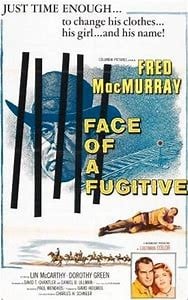 For some actors, the Western seemed familiar terrain, as though they were as much a part of it as it was part of them. John Wayne, Gary Cooper, James Stewart, Henry Fonda, Joel McCrea and Randolph Scott quickly come to mind. One name that doesn't is Fred MacMurray. Perhaps best remembered as the kind, understanding father in the long-running TV series MY THREE SONS, MacMurray had earlier shown a darker side in such classics as DOUBLE INDEMNITY and THE CAINE MUTINY, as well as a deft comedic flair in MURDER, HE SAID and THE EGG AND I. But he appeared, to me anyway, out of place in Westerns. Or perhaps the Westerns he did appear in from '55 to '59 just weren't very good, like THE FAR HORIZONS, GUN FOR A COWARD, QUANTEZ, and GOOD DAY FOR A HANGING. Hard to imagine him, too, as Marshal Dillon in TV's GUNSMOKE, but he was considered for the role.
However, at our Western Movie get-together last night, Robert Nott brought FACE OF A FUGITIVE (1959), a dark, engaging tale about bank robber Jim Larsen (MacMurray) forced to flee after his brother kills the deputy sheriff who was taking Jim to jail. His brother dies from a gunshot wound and Jim, now calling himself Ray Kincaid, boards a train and makes his way to a small town in the hopes of blending in and then quietly slipping away. But word of his escape spreads fast and county sheriff Mark Riley (Lin McCarthy) orders his deputies to watch all the roads and passes, refusing to allow any strangers to leave, at least until tomorrow when the wanted posters with Larsen's picture on them are supposed to arrive.
Jim knows he's in a tight spot, made even tighter when he falls for Ellen (Dorothy Green), a recent widow who's also Sheriff Riley's sister. Meanwhile, nasty cattleman Reed Williams (Alan Baxter) has told the sheriff his cattle won't be penned in by barbed wire, and his top hand, Purdy (James Coburn), looks forward to showing the sheriff his boss means business. And Jim, trying to figure a way out before everyone discovers who he really is, begins to see the error of his criminal ways while also taking a strong dislike to Reed and Purdy. But will Jim stay and help the sheriff, or make a run for it before everyone finds out his true identity? A climactic chase and shoot-out follow, all ably directed by Paul Wendkos, whose handful of credits at that time included the seedy noir thriller THE BURGLER (1957) with Dan Duryea, and the original summer beach party film GIDGET (1959).
The screenplay, written by David T. Chantler and Daniel B. Ullman, is remarkable in that most of the story takes place in the span of a single day.
Worth watching, if you haven't seen it.
The second feature Robert brought was BOWERY BUCKAROOS (1947) starring the Bowery Boys, those irrepressible goofs led by Leo Gorcey and Huntz Hall. In this entry, the boys try to help their old friend, Louie (Bernard Gorcey, Leo's real-life father), who tells them of his days in the Old West and how he's wanted for a murder he didn't commit 20 years before near Hangman's Hollow. There's a map to a gold mine they draw on Huntz Hall's back, card tricks, and the malaprops that the Boys were famous for, like, "They can't arrest you Louie," Leo Gorcey tells his friend, "not without expedition papers." The shenanigans played well for about the first twenty minutes.
Along with Robert Nott, award-winning journalist and author of a soon-to-be-released book on the films of director Budd Boetticher, the other members of our group in attendance were Johnny D. Boggs, seven-time Spur Award winning author, and David Morrell, award-winning author and New York Times best-selling author of FIRST BLOOD. Kirk Ellis, Emmy-winning writer and producer of JOHN ADAMS and INTO THE WEST, was away.