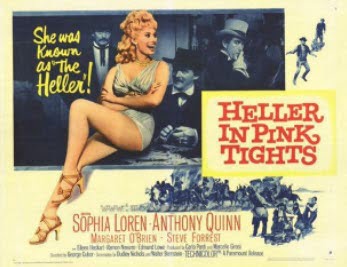 Not a typical Western, but a Western nonetheless, HELLER IN PINK TIGHTS (1960) was Sheila Ellis's choice for our April Western Night session.
Based on a novel by Louis L'Amour, the film follows an acting troupe through the wilds of Wyoming as they try to stay one step ahead of bill collectors while putting on stage shows for citizens anxious for real theatrical performances.
As head of the "Great Healy Dramatic and Concert Company," Tom Healy (Anthony Quinn) has plenty to deal with keeping his troupe together, including his lead actress, Angela (Sophia Loren in a blonde wig), whose best intentions run into unexpected complications, like deadly gunhand Clint Mabry (Steve Forrest). There's also Lorna Hathaway (Eileen Heckart), who's all but given up her stage career to promote her daughter Della (Margaret O'Brian) who has her own ideas about what she wants.
It's a unique and intriguing idea for a Western. Other Westerns have included characters that are stage performers as part of the story, such as MY DARLING CLEMENTINE and TOMBSTONE, but not as the main story. And while HELLER feels a bit uneven–sometimes amusing and sometimes crossing into melodrama–it does keep you wondering what's coming next.
The production has an intriguing background. According to reports, George Cukor, at that time known for directing such films as A STAR IS BORN and THE PHILADELPHIA STORY, had heard about acting troupes out west from director D. W. Griffith and was intrigued. Finding out that Paramount was developing L'Amour's story for Alan Ladd, Cukor took a look at the script Dudley Nichols had written and decided he'd found a good project. (Walter Bernstein would be brought in later to work on the script.) The story goes that Cukor wanted the film to look like a cross between Frederic Remington's paintings of the old west and Toulouse-Lautrec's etchings of music hall performers. (It does.) This would be Cukor's only Western, though he considered it a romantic comedy that happens to be set in the West. He later disavowed the finished film due to cuts Paramount made in it.
Also, somewhere along the line, the decision was made to change L'Amour's book title from HELLER WITH A GUN to HELLER IN PINK TIGHTS, referring to Loren's character. Heller is an archaic word for hellion.
With a running time of one hour and forty minutes, HELLER IN PINK TIGHTS is available on DVD and Amazon Prime.
Along with Sheila, our group includes Johnny D. Boggs, record nine-time Spur Award-winning and Owen Wister Award-winning author whose work includes the excellent A THOUSAND TEXAS LONGHORNS, Kirk Ellis, Emmy-winning screenwriter and producer of HBO's JOHN ADAMS and TNT's INTO THE WEST, David Morrell, award-winning author and New York Times best-selling author of FIRST BLOOD that introduced the character Rambo, and Robert Nott, award-winning journalist and author of several books on Western films, including his most recent THE FILMS OF BUDD BOETTICHER.