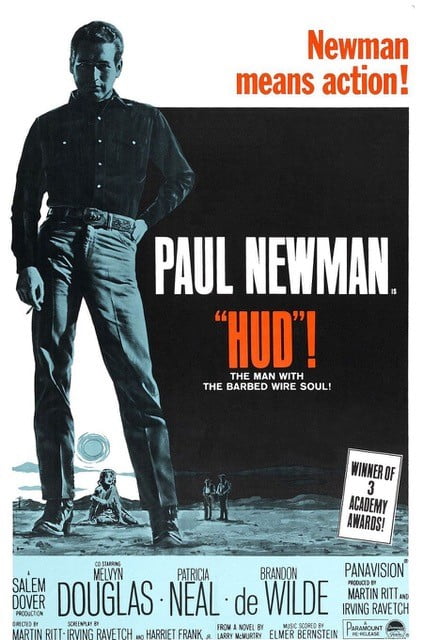 A contemporary Western and one of the best films about the changing West, HUD (1963) was my selection for our January meeting.
It tells the story of a Texas cattle ranching family in bitter conflict over its past and future. Hud Bannon (Paul Newman) is a charming but womanizing scoundrel. His father, Homer (Melvyn Douglas), an honorable old Westerner, can't abide his son's reckless, selfish ways. Between them is Hud's teenaged nephew Lon (Brandon de Wilde) who loves his grandfather but also wants to be like his uncle. And there's Alma (Patricia Neal), the Bannon's housekeeper. Vivacious and earthy, she brings some stability, though fragile, to the Bannon home.
The Oscar nominated screenplay was adapted by husband and wife writing team Irving Ravetch and Harriet Frank, Jr. from Larry McMurtry's novel, HORSEMAN, PASS BY. While the novel is told from Lon's point of view, the screenwriters realized that the character of Hud would make for a more compelling story with his striking good looks but a real s-o-b whose callous charm both attracts and repels. The ad line on the film posters—The man with the barbed-wire soul—was no overstatement. (Newman and director Martin Ritt were shocked when told that young men saw Hud as a hero to be admired.)
There are memorable lines of caustic humor, like when Hud tells Alma he's never seen her wearing shoes in all the time she's worked for them. She says, "I wore 'em once, I think to get married in. White satin pumps. I don't have 'em anymore, or the man either."
And there are searing moments. Hearing that their cattle are infected with disease, Hud tells Homer they should sell the whole herd fast. Homer can't believe Hud would pass bad beef on to their neighbors who wouldn't know what they were getting. Angry, Hud says, "How many honest men you know? Why you separate the saints from the sinners, you're lucky to wind up with Abraham Lincoln. Now I want out of this spread what I put into it, and I say let's dip our bread into some of that gravy while it's still hot." Homer calls Hud "an unprincipled man." Hud responds, "Don't let that worry you none. You got enough for both of us."
Martin Ritt, who had directed stage pays, live television and would go on to do a number of other socially conscience films including HOMBRE, NORMA RAE, SOUNDER, and THE FRONT, brought a seamless realism to HUD, capturing humanity in crowded bars, at rodeo contests, at lonely bus stops. It's arguably his best film. (Ritt was nominated for an Oscar, as was Newman for best actor. Douglas and Neal both won Oscars for their performances.) Shot on location around the Texas Panhandle, the black and white photography by James Wong Howe, who received an Oscar for his work, presents a stark, pitiless landscape. A splash of color, like a vivid blue sky, would have implied something life affirming, but this is a West barren and soulless, like Hud.
With a running time of 1 hour and 52 minutes, HUD is available on Amazon Prime for a fee and also on DVD and Blu-ray.
Our group includes Johnny D, Boggs, record eight-time Spur Award-winning author and Owen Wister Award winner whose latest work is A THOUSAND TEXAS LONGHORNS, Kirk Ellis, Emmy-winning screenwriter and producer of HBO's JOHN ADAMS and TNT's INTO THE WEST, Kirk's wife, Sheila, David Morrell, award-winning author and New York Times best-selling author of FIRST BLOOD, the novel that introduced the character Rambo, and Robert Nott, award-winning journalist and author of several books on Western films, including his most recent THE FILMS OF BUDD BOETTICHER.