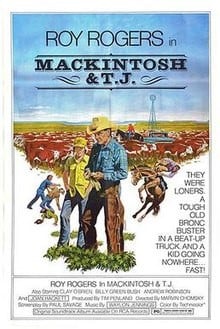 As a youngster I was never a Roy Rogers fan. I watched a couple of his movies but they just didn't work for me. Mostly it was the songs. They stopped the action cold.
Then, this past Sunday at our Western Night movie gathering, David Morrell, New York Times bestselling author of FIRST BLOOD, brought MACKINTOSH & T.J., the final film Roy Rogers made. Released in 1976, this sweet-natured modern day Western stars Rogers as Mackintosh, an old cowhand drifting from job to job across Texas in a beat up truck with holes in the radiator he plugs with sticks he whittles down to fit. He helps a tough homeless fourteen-year-old named T.J. (Clay O'Brien) by trying to show him a better way of life.
Rogers is remarkable in the lead role. His weathered face shows more about him than any explanation we are given later, but even that is precious little. There are a couple of fights, a peeping tom, bronco busting, suspicions that get out of hand, as well as a little plot problem. But what truly stands out are the scenes where actions speak in gentle turns. One in particular, set in the cabin at the big ranch where Mackintosh has gotten a job, shows him sitting at a table one night reading a book by the glow of a lantern. T.J. comes in feeling bored. He sees the few books Mackintosh has sitting on the side table. Asking if he can read one, Mackintosh says sure. T.J. selects "Black Beauty," joins his friend at the table and begins reading. Without taking his eyes from his book, Mackintosh quietly slides the lantern over so T.J. has more light to read by. It's a wonderful moment.
Directed by Marvin Chomsky and written by Paul Savage, MACKINTOSH & T.J. was filmed on location at the 6666 Ranch in Texas, giving it a truly authentic feel. Though the picture almost never airs on television, DVDs are available through www.penlandproductions.com.
Also in attendance Sunday night were Johnny D. Boggs, seven-time Spur Award winning author, Kirk Ellis, Emmy-winning writer and producer of HBO's JOHN ADAMS, and Robert Nott, award-winning journalist whose new book, THE FILMS OF BUDD BOETTICHER, was released in September.