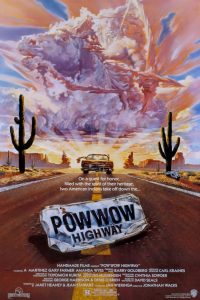 For our latest gathering, Sheila Ellis chose POWWOW HIGHWAY (1989), a charming, enjoyable film about two Northern Cheyenne Indian friends on a cross-country odyssey, but for two very different reasons.
Philbert, (Gary Farmer in a wonderful performance), having just purchased a junker '64 Buick he names "Protector" and sees as his modern-day pony, agrees on a whim to take his friend Red Bow (A Martinez) from the Little Elk Reservation in Montana to Santa Fe, New Mexico. Red Bow, an angry man consumed with modern, political issues facing Indians, needs to hurry south to bail his sister out of jail. But for Philbert, the journey is a spiritual one filled with surprises and detours that frustrate Red Bow, as Philbert drinks in the serenity of time and place, whether those places are sacred mountains and peaceful rivers or trailer parks, gas stations, and pool halls.
With a screenplay by Janet Heaney and Jean Stawarz from a novel by David Seals and directed by Jonathan Wacks, the film possesses a simple, even magical quality at times, though it does have an unfortunate slapstick, Keystone Kops-style climax. But it's the performances of Farmer, a big, gentle man with a smiling doughy face, contrasted with Martinez's sharp, bitter, frowning directness, that stay with you.
The film also features mostly Native American actors including Wes Studi (GERONIMO: AN AMERICAN LEGEND), Graham Greene (DANCES WITH WOLVES), and Joanelle Nadine Romero (BARBAROSA).
Though the film did not do well at the box office on its release, it did garner awards and nominations from the Sundance Film Festival, Independent Spirit Awards, and the Native American Film Festival.
With a running time of 91 minutes, POWWOW HIGHWAY is available on The Criterion Channel (subscription service) and on DVD.
Along with Sheila, our group includes Johnny D. Boggs, record nine-time Spur Award-winning and Owen Wister Award-winning author whose work includes the excellent A THOUSAND TEXAS LONGHORNS, Kirk Ellis, Emmy-winning screenwriter and producer of HBO's JOHN ADAMS and TNT's INTO THE WEST, David Morrell, award-winning author and New York Times best-selling author of FIRST BLOOD that introduced the character Rambo, and Robert Nott, award-winning journalist and author of several books on Western films, including his most recent THE FILMS OF BUDD BOETTICHER.
Watch the Official Powwow Highway Trailer Below