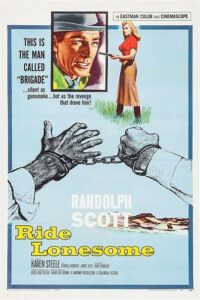 For this session of Western Night, Kirk Ellis chose RIDE LONESOME (1959). It has been called one of the best B-Westerns ever made.
The Western films Randolph Scott made with director Budd Boetticher are known as the Ranown films, an acronym for productions that mostly also included producer Harry Joe Brown. These seven low budget films from the late Fifties are SEVEN MEN FROM NOW, THE TALL T, DECISION AT SUNDOWN, BUCHANAN RIDES ALONE, RIDE LONESOME, WESTBOUND and COMANCHE STATION. Some are better than others, but all are remarkable.
Of these Westerns, RIDE LONESOME is, for me, the most astonishingly desolate in its imagery, and Biblical in its resolution.
A bounty hunter named Ben Brigade (Scott) captures wanted murderer Billy John (James Best) with the intention of taking him in to hang in Santa Clara, a few days ride away. Brigade shortly winds up with three others in tow. Sam Boone (Pernell Roberts) and his cohort Whit (James Coburn in his film debut) as outlaws on the dodge trying to figure a way to go straight, and the widowed Mrs. Carrie Lane (Karen Steele) who's no stranger to tough times, or how to handle a rifle.
It's a story that appears to be headed one way, then becomes something else altogether. Billy, scared and sniggering, keeps warning Brigade his older brother, Frank (Lee Van Cleef), will be along to get him. And Brigade, besides taking Billy to hang, wants something so deep it can change a man's soul.
Boetticher masterfully maintains the tension in Burt Kennedy's sharply written screenplay. Shot mostly on location in the Alabama Hills in Lone Pine by Charles Lawton Jr, RIDE LONESOME runs a taut 73 minutes. It is available on Amazon Prime for a fee, youtube.com, DVD and Blu-ray.
Along with Kirk, who has just had his first book published called RIDE LONESOME about the production, themes and historical relevance of this film, our group includes Johnny D. Boggs, record nine-time Spur Award-winning author and Owen Wister Award winner whose work includes A THOUSAND TEXAS LONGHORNS, Kirk's wife Sheila, David Morrell, award-winning author and New York Times best-selling author of FIRST BLOOD, the novel that introduced the character Rambo, and Robert Nott, award-winning journalist and author of several books on Western films, including his most recent THE FILMS OF BUDD BOETTICHER.
Watch "Ride Lonesome" Below (Full Movie)