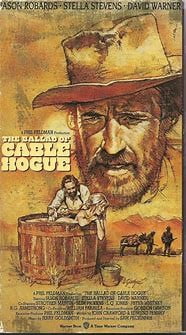 A gentle, comic, romantic Western about a man left to die in the desert and found water where it wasn't. THE BALLAD OF CABLE HOGUE (1970) may not sound like a Sam Peckinpah film, but it is. Peckinpah had just completed THE WILD BUNCH, his violent ode to the end of the West, when he started this one. He would come to call it his favorite of his films. David Morrell chose it for our latest virtual Western Night viewing.
Cable (wonderfully played by Jason Robards) is a grizzled, irascible prospector whose partners abandon him because there's only water enough for two. But Hogue miraculously finds water; after days wandering and nearly dying of thirst, he stumbles and says, "Lord, you call it. I'm just plain done in. Amen." Then he notices the toe of his boot wet with mud. He sets up Cable Springs, a way station for the stagecoach line between two blossoming towns and quickly has a prospering business offering water and meals. He nails the plates to the table; it's quicker and easier to wash them off.
The Reverend Joshua Sloan (David Warner), part preacher, part scoundrel, soon joins him. And later comes Hildy, (Stella Stevens in her best role) a prostitute Cable befriended earlier in town, who was "asked to leave by the good people there." But she's not the stereotypical whore with a heart of gold; she's her own woman, tough yet feminine.
Peckinpah and screenwriters John Crawford and Edmund Penney give us a love story, a revenge story, and one of the most bittersweet passing-of-the-Old West tales.
Filmed on location, including Nevada's Valley of Fire and Apacheland Movie Ranch in Arizona, the production was plagued by bad weather that resulted in an additional 19 days of shooting and $3 million added to the original $800,000 budget. Almost daily, Peckinpah fired crew members who were then handed tickets back to Los Angeles. Some were rehired, then fired again. When filming wrapped, a bar bill was reportedly in excess of $70,000.
As much as I like this film, it is marred by a few groan-inducing slapstick moments and it gets a bit slow in places. It's available on DVD and currently on Amazon Prime for a fee.
Along with David, award-winning author and New York times best-selling author of FIRST BLOOD, our group includes Johnny D. Boggs, record eight-time Spur Award-winning author whose works include RETURN TO RED RIVER, Kirk Ellis, Emmy-winning writer and producer of HBOs JOHN ADAMS and TNTs INTO THE WEST, and Robert Nott, award-winning journalist and author of THE FILMS OF BUDD BOETTICHER.