"Scared of guns and afraid of gals—What kind of Sheriff are you?" That's the ad line on the one sheet poster for THE BOY FROM OKLAHOMA, a sweet-natured Western released by Warner Bros. in 1954.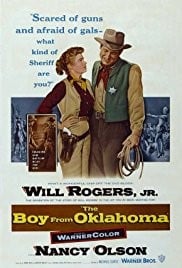 That was the film Johnny D. Boggs chose for our Western Night at the Movies last Sunday evening. Set in New Mexico Territory, the story finds Tom Brewster, a gangly fellow played by Will Rogers Jr., on his way to join his uncle's law firm down in Lincoln. But stopping in the town of BlueRock to mail his lawyer's exam answers, he finds skullduggery afoot when the stagecoach is robbed and the bandits stealing only the mailbag. There was a letter addressed to the New Mexico Attorney General in that bag that the crooked mayor Ben Turlock (Anthony Caruso) didn't want to see delivered. (The recently murdered sheriff, you see, had written that letter.) Without those test results, Brewster has no job to go to, and when he shows no prowess with a six-shooter during a shooting contest with plucky Katie Brannigan (Nancy Olson) but plenty with twirling a rope, Mayor Turlock offers him the job as sheriff. Turns out that young Katie is the former sheriff's daughter and Brewster's taken a real shine to her. Meanwhile, Turlock comes to regret hiring Brewster as Brewster soon discovers evidence of the sheriff's killing that leads to Turlock.
The screenplay by Frank Davis and Winston Miller, based on a humorous Saturday Evening Post story called "The Sheriff Was Scared" by Michael Fessier, has a real amiable quality to it that director Michael Curtiz worked with well. Curtiz was one of the most prolific film directors in Hollywood for many years. His films included CASABLANCA (for which he won an Academy Award as best director), THE ADVENTURES OF ROBIN HOOD, MILDRED PIERCE, LIFE WITH FATHER, ANGELS WITH DIRTY FACES, THE SEA HAWK, THE CHARGE OF THE LIGHT BRIGADE, VIRGINIA CITY and SANTA FE TRAIL. This B Western would be his last for Jack Warner who released the film with almost no publicity. (He and Curtiz had argued over the short four-week shooting schedule as Curtiz wanted an additional week, and also Curtiz's contractual percentage profits which Curtiz called a joke.)
Will Rogers Jr. had a short career in films, knowing full well he was not much of an actor, though here his aw-shucks delivery of homespun witticisms plays well enough. Along with Olsen, earlier nominated for an Oscar for her role in SUNSET BOULEVARD, the other supporting cast includes Slim Pickens, Sheb Wooley and Lon Chaney Jr.
A few years later, Warner Bros. turned THE BOY FROM OKLAHOMA into the television series SUGARFOOT with Will Hutchins in the Tom Brewster role.
Also in attendance that night for our Western Night group get together were David Morrell, New York Times bestselling author of FIRST BLOOD, and Robert Nott, award-winning journalist and author of books about Western icons Randolph Scott and Joel McCrea. Kirk Ellis, Emmy-winning writer of INTO THE WEST and JOHN ADAMS, was in California.