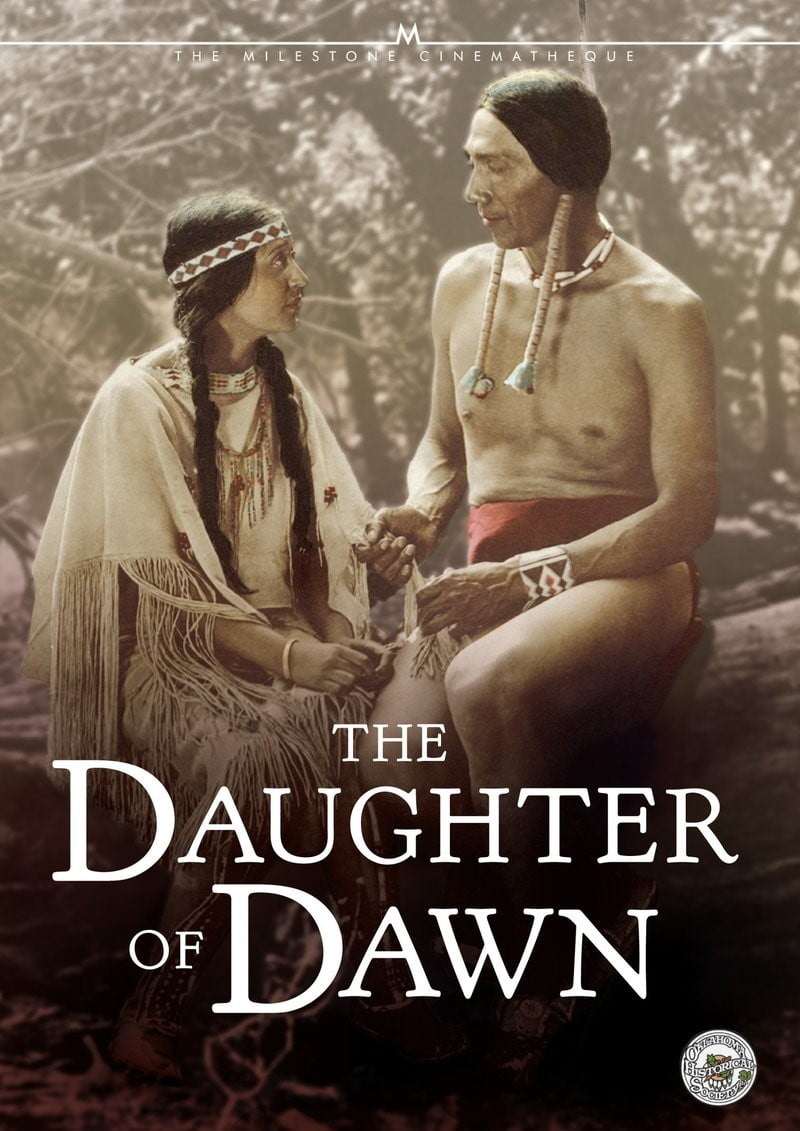 It was Johnny Boggs's turn to select the film for this Western Night session and he chose a surprising silent released in 1920 called THE DAUGHTER OF DAWN, a film about Native Americans with a cast of all Native Americans, namely Kiowas and Comanches.
The love triangle of the story concerns two Kiowa men both in love with Daughter of Dawn (Esther LeBarre), the chief's daughter. She loves White Eagle (White Parker, the son of famed Comanche leader Quanah Parker), a strong, kind man with few possessions. His rival, Black Wolf (Jack Sankadota), owns many ponies, and wants to marry Dawn so he can be certain of becoming the new chief.
It's a familiar tale, and one that takes on Shakespearean dimensions of vengeance and twisted emotions, but there's also a moment or two that are truly preposterous. Let's just say tests of love and devotion take on new meaning. In spite of this, though, the film is still remarkable and engaging.
Produced by Richard Banks, an Anglo, and his Texas Film Company, the film was written and directed by Norbert Myles, also an Anglo, whose background included performing in vaudeville and then directing a few low budget movies. According to reports, Banks enticed Myles, who'd been blackballed by Hollywood studio brass for being difficult, with an idea for a film involving, he said, "an old Comanche legend."
With only one camera to shoot the film, Myles kept the camera stationery allowing the cast to move within the frame; simple yet effective. There's not even a panning shot during the buffalo hunt or the battle scenes, though in fairness, the combat moments are poorly staged.
Also, the clothing, tipis, horses and weapons were all actual possessions brought by the Indians to the filming location in the Wichita Mountains in Oklahoma.
The film was sneak previewed in Los Angeles with one reviewer calling it "original and breath-taking." Its history became murky after that and the film was feared lost, but a copy was discovered ninety years later and restored by the Oklahoma Historical Society.
With a running time of 80 minutes, the film is available on DVD and Blu-Ray.
Along with Johnny, record nine-time Spur Award-winning author and Owen Wister Award winner whose work includes A THOUSAND TEXAS LONGHORNS, our group includes Kirk Ellis, Emmy-winning screenwriter and producer of HBO's JOHN ADAMS and TNT's INTO THE WEST, Kirk's wife, Sheila, David Morrell, award-winning author and New York Times best-selling author of FIRST BLOOD, the novel that introduced the character Rambo, and Robert Nott, award-winning journalist and author of several books on Western films, including his most recent THE FILMS OF BUDD BOETTICHER.