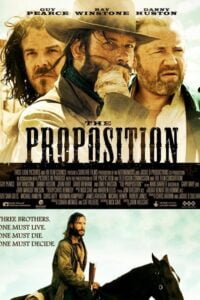 For our October Western Night at the Movies session, Sheila Ellis chose THE PROPOSITION, an Australian film from 2005.
Set in the bleak yet beautiful Outback frontier of the Victorian era, the local law is Captain Stanley (Ray Winstone) who states early on "this land will be civilized." He and his men have just captured Charlie Burns (Guy Pearce) and his younger brother Mikey (Richard Wilson), both outlaws (called bushrangers in Australia) wanted for rape, murder and other assorted crimes. But the captain is more interested in getting the leader of their gang, their poetry-quoting, mad-dog vicious older brother Arthur (Danny Huston). So the captain offers Charlie the proposition of the title: Find and kill Arthur in the next nine days and he'll pardon him and Mikey; if not, he'll hang his teenage brother.
It's an intriguing idea, and something of a devil's bargain, but also one that could certainly be set in the American West.
Director John Hillcoat (whose credits include the post apocalyptic film THE ROAD based on the novel by Cormac McCarthy) and scriptwriter Nick Cave (who also did the music score) offer some fascinating contrasts. For example, the town is roughhewn, grimy and windblown, but Captain Stanley's English wife, Martha (Emily Watson), has brought a bit of home with her to this desolate land having planted, as close as she can get anyway, an English garden in their fenced-in front yard. As the story unfolds, savagery and civilization are grotesquely drawn together, like the sticky heat and buzzing flies that permeate the film.
But be aware, THE PROPOSITION is not for the squeamish. It is brutal, violent and sanguinary. Of course, the same could be said of other Westerns. Sam Peckinpah's THE WILD BUNCH, Clint Eastwood's UNFORGIVEN and Sergio Leone's Man with No Name trilogy immediately come to mind. Inhumanity, violence and blood were presented in those films showing how terrible man can be. But there was also redemption, often grim, as a balance to the violence. In THE PROPOSITION, visceral inhumanity and plenty of blood seem to become the point.
THE PROPOSITION is available on Blu-Ray and streaming on Amazon Prime.
Along with Sheila, our group includes Johnny D. Boggs, record eight-time Spur Award-winning author for such novels as RETURN TO RED RIVER, Kirk Ellis, Emmy-winning screenwriter and producer of HBO's JOHN ADAMS and TNT's INTO THE WEST, David Morrell, award-winning author and New York Times best-selling author of FIRST BLOOD, and Robert Nott, award-winning journalist and author of THE FILMS OF BUDD BOETTICHER.
Watch the Full Movie Below