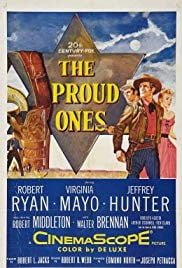 It was Robert Nott's turn to curate our December Western Movie Night this past Sunday and he chose "The Proud Ones" (1956), about a marshal trying to keep order in his town when the first cattle drive arrives. It's a watchable film in spite of its uneven plotting. Written by Edmund H. North and Joseph Petacca, it stars Robert Ryan as Marshal Cass Silver facing off against an evil saloon owner (Robert Middleton) while trying to teach his new deputy Thad (Jeffry Hunter) the ropes of being a lawman. The action scenes are handled well by director Robert D. Webb, and Robert Ryan (always a pleasure to watch) delivers a solid performance, as does Robert Middleton who made a career of playing treacherous villains. Part of the plot problem concerns Thad who hates the marshal for killing his father years before and now decides to join him but can't decide if he wants to shoot him down or not. Thad's feelings seesaw from scene to scene. And there's also the marshal's love interest, Sally (Virginia Mayo), who is relegated to delivering early plot points to move the story forward and then pretty much disappears.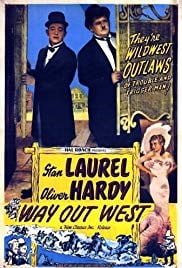 Robert's second feature was "Way Out West" (1937) starring Stan Laurel and Oliver Hardy, the bowler hat–wearing duo known for their slapstick routines from the early days of Hollywood and into the 1940s. It's a delightful 64 minutes filled with comedic hijinks as Stan and Ollie arrive in the town of Brushwood Gulch to deliver the deed to a gold mine but end up giving it to the wrong woman. Wonderful set pieces include Stan and Ollie using a block and tackle as well as a mule to sneak into the hotel where the deed is being kept in a safe to try get it back, and a delightful soft shoe performance that the boys do in the middle of the town street.
Our group includes Johnny D. Boggs, seven-time Spur Award-winning author, David Morrell, award winning and New York Times best selling author of FIRST BLOOD, Kirk Ellis, Emmy-winning writer and producer of HBO's JOHN ADAMS, and Robert Nott, award-winning journalist whose latest book, THE FILMS OF BUDD BOETTICHER, was released in September.
"The Proud Ones" – Short
"Way Out West" – Full Movie