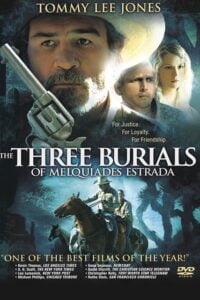 A film set in the contemporary West was Kirk Ellis's choice for our latest Western Night at the Movies gathering. THE THREE BURIALS OF MELQUIADES ESTRADA (2005) tells a disquieting yet fascinating story of loyalty and friendship mixed with torment and consequences.
It stars Tommy Lee Jones, also making his directorial debut, as Pete, the operator of cattle ranch near a sad little town on the Texas-Mexico border who hires Melquiades (Julio César Cedillo), an illegal immigrant and good cowboy, to help work the place. But when Melquiades is accidentally shot dead by over-zealous Border Patrolman Mike Norton (Barry Pepper) and the local sheriff (Dwight Yoakam) refuses to pursue the case, Pete decides to find his friend's killer and make him pay.
This is not some savage revenge story, however, but rather a parable of almost biblical reckoning. And while I admire the film, I found the screenplay by Guillermo Arriaga (Oscar-nominated the following year for BABEL) initially troubling. He tells his story in a non-linear fashion, particularly the first half. It was, at times, difficult to know if the story had flashed forward or backward. (Conversely, Bob Fosse told three of his best films—ALL THAT JAZZ, LENNY and STAR 80—in non-linear fashion and it was never difficult to know precisely when and where those stories were at any given time.)
Jones's direction is sharp and, with the help of superb cinematographer Chris Menges, it visually reflects this pitiless story against an equally bleak desert terrain.
The performances are believable and nuanced. As Pete, Jones is driven to near madness in his quest while Pepper's Mike Norton seeks redemption for his callous life. His wife Lou Ann (January Jones) wallows in boredom and despair while her friend Rachel (Melissa Leo), a local married waitress, finds solace in sexual rendezvous, some with the sheriff and others with Pete.
There are surprises, too, some amusing, some heartrending and some grisly.
THREE BURIALS is available on Amazon Prime for a fee and on DVD.
Along with Kirk Ellis, Emmy-winning screenwriter and producer of HBO's JOHN ADAMS and TNT's INTO THE WEST, our group includes Johnny D. Boggs, record eight-time Spur Award-winning author for such novels as RETURN TO RED RIVER, Kirk's wife Sheila, David Morrell, award-winning author and New York Times best-selling author of FIRST BLOOD, and Robert Nott, award-winning journalist and author of THE FILMS OF BUDD BOETTICHER.
View the trailer below