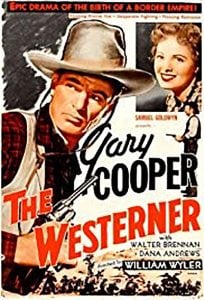 Last night at our Western Night at the Movies get together it was my turn to select the film: THE WESTERNER, an underrated classic of the genre, released in 1940.
The Western had been a staple during the silent era and into the talkies, but from 1931 to 1938, it was relegated to B pictures and serials with a few exceptions such as THE PLAINSMAN (1937) and THE TEXANS (1938). Then came 1939 which saw the release of STAGECOACH, JESSE JAMES, DODGE CITY, UNION PACIFIC and DESTRY RIDES AGAIN.
Producer Samuel Goldwyn, who'd made a few silent Westerns, including THE WINNING OF BARBARA WORTH featuring a young Gary Cooper some fourteen years earlier, decided it was time to return to the genre. William Wyler, who was under contract to Goldwyn and for whom he'd just made WUTHERING HEIGHTS, was assigned to direct. Goldwyn gave him a $1 million budget and a four-week shooting schedule on location outside Tucson, Arizona, filling in for Texas.
THE WESTERNER opens with a shoot-out establishing the on-going war between the homesteaders and cattle interests, then reveals drifter Cole Hardin (Gary Cooper) hauled into the sun-baked West Texas town of Vinegarron because it appears the horse he was riding is stolen, a hanging offense. Inside the saloon, owned by the self-styled Judge Roy Bean (Walter Brennan) where he also holds court, Hardin stands trial with Bean assuring him that "a horse thief always gets a fair trial before he's hung."
As Hardin tries to figure a way out his predicament, Jane-Ellen Mathews (Doris Davenport), daughter of a homesteader, bursts into Bean's saloon and accuses him of ordering his cowboys to trample and ruin the other homesteaders' farms by running cattle through them. Hardin appears taken with Jane-Ellen, and she wishes there was something she could do for him but knows he's as good as convicted in Bean's travesty of a court.
Bean orders the jury (made up of his own loyal men) into an anteroom to determine Hardin's fate. The jurors play a couple of rounds of poker and have a few drinks to allow an appropriate amount of time for "deliberation."
In the mean time, Hardin discovers that Bean has a real reverence for Lily Langtry, the beautiful British actress known as the "Jersey Lily." Hardin leads Bean to believe that he knows Lily Langtry, and possesses a lock of her hair. He says he'd gladly give it to Bean, and though he doesn't carry such a precious item on him, he assures the judge it's safe in El Paso. The jury returns with a guilty verdict and Bean promptly sentences Hardin to hang but postpones the execution. He wants that lock of Lily's hair.
What makes this scene such a joy to watch is the contrast between Cooper's wry, laconic delivery and Brennan's sly, ruthless judge. It also gives us wonderful bits of humor that permeate the film as well, like Hardin's horse being called as a witness at his trial, and the town undertaker in his black suit and tall hat entering wordlessly to measure Hardin for a coffin.
While much of the humor does work well, there is something of an imbalance at times with the grimmer aspects portrayed in the film, like the killing of Jane-Ellen's father by Bean's men and the fact that those men are not shown to pay for that terrible deed, as well as some of the others they commit. However, Bean, the man who ordered those deeds, does face Hardin in the climactic showdown. Perhaps it's this particular melding of humor and melodrama that keeps THE WESTERNER from holding a place with such other classics as STAGECOACH, THE OX-BOW INCIDENT, MY DARLING CLEMENTINE, and RED RIVER, to name a few.
Ironically, Cooper didn't want to make this film, saying that the character of Hardin was a minor part in a story that centered on Judge Roy Bean. Goldwyn had screenwriters Jo Swerling and Nevin Busch rewrite the script that was based on a 10-page story by Stuart N. Lake (who would receive an Academy Award nomination for best original story). Playwright Lillian Hellman was brought in to help expand and strengthen the role of Hardin. Still unsatisfied, Cooper refused to sign on, until Goldwyn threatened to sue the actor for breach of contract.
Brennan would win his third best supporting actor Academy Award for his performance. And relative newcomer Davenport brings an understated indignation and poignancy to her role. She had not been director Wyler's first choice. He wanted his wife, Margaret, in the role, but Goldwyn insisted on Davenport. She had been one of many actresses who tested for the role of Scarlett O'Hara in GONE WITH THE WIND and Goldwyn thought she showed real promise. Sadly, her career was soon cut short by a traffic accident that left her unable to walk without the use of a cane.
William Wyler was no stranger to Westerns, having come to America from Germany in 1920 at age 18 to work as an errand boy for his mother's first cousin, Universal Studio head Carl Laemmle. Soon he was assigned to Universal's B-unit and directed his first picture in 1925, a two-reeler called THE CROOK BUSTER, a Western. "I made over forty Westerns," Wyler once said. "I used to lay awake nights trying to think up new ways of getting on and off a horse."
Known in Hollywood as "40-take Wyler" because he would shoot long scenes and have actors perform take after take until he was satisfied, usually offering only "again" or "do it better" when they'd ask what he wanted from them, Wyler reportedly allowed improvisation on the set of THE WESTERNER.
However, he did not improvise on the photography. His cinematographer was Gregg Toland who would be revered for his deep focus camerawork the following year on Orson Welles' CITIZEN KANE. But Toland had begun his trademark cinematography years before with films he'd already made with Wyler, namely THESE THREE, COME AND GET IT, DEAD END and WUTHERING HEIGHTS, for which he won his only Oscar. (A few years later, he would shoot Wyler's masterpiece, THE BEST YEARS OF OUR LIVES.) The West as seen through Toland's lens is haunting in its starkness. The burning of Jane-Ellen's father's farm is terrifying, but the scene that follows with her reading from a charred Bible over her father's grave is one of the most elegiac ever put on film.
Though Toland's cinematography was not nominated for an Oscar for this film, James Basevi's art direction did receive one. And Wyler was nominated for directing, but not for THE WESTERNER. It was for his other film released that same year, the brooding melodrama, THE LETTER, his third nomination in that category to that time.
Interestingly, Wyler jettisoned Dmitri Tiomkin's musical score for THE WESTERNER and had Alfred Newman compose a new one. Tiomkin, though, still received the onscreen credit.
In attendance last night were Johnny D. Boggs, winner of seven Spur Awards, tying those won by Elmer Kelton—read Johnny's RETURN TO RED RIVER; David Morrell, New York Times bestselling author of FIRST BLOOD; and Robert Nott, award-winning journalist and author of biographies about Western icons Randolph Scott, Joel McCrea and Audie Murphy, as well as coauthoring a memoir about Sam Peckinpah with Max Evans. Kirk Ellis, Emmy-winning writer and producer of JOHN ADAMS and INTO THE WEST, was away in California.