It was David Morrell's turn to choose the films for our Western Night at the Movies gathering last night. As 2019 marks the 50th anniversary of the release of THE WILD BUNCH, Sam Peckinpah's cinematic ode to the end of the West, David's first film was the excellent 1996 documentary, THE WILD BUNCH: AN ALBUM IN MONTAGE. Produced by Nick Redman and Paul Seydor (who was also the writer, director and editor), it's a fascinating look at the making of the film, specifically centering on the conception and filming of the famous walk the bunch takes leading up to the climactic "battle of bloody porch," and also the bridge explosion sequence. It mixes both black-and-white behind the scenes production filming and the color sequences from the finished picture.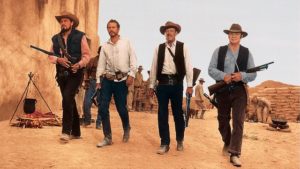 Insightful commentary by co-stars Ernest Borgnine, Edmund O'Brien and L.Q. Jones, co-screenwriter Walon Green, and others who worked on the production, as well as reflections on the making of the film from Sam Peckinpah spoken by actor Ed Harris, reveal the rigors of the filmmaking process. As a film editor once told me, "Some days the cinema gods smile on you. And some days…"
AN ALBUM IN MONTAGE was nominated for an Academy Award for Best Documentary Short Subject and is available on the Blu-Ray version of THE WILD BUNCH.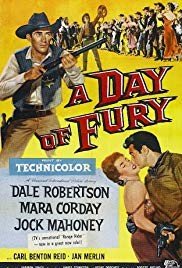 David's second film, A DAY OF FURY, is a terrific B-Western from 1956. It opens with a bad man named Jagade (Dale Robertson) saving the life of town marshal Shaman Fulton (ex-stuntman Jock Mahoney) on his wedding day. Jagade proceeds to take over the town while Marshal Fulton stands by and watches. Careful and crafty, Jagade doesn't break any laws as the town begins to come apart. "I turned over a rotten log," he says. "I didn't create what came crawling out from under."
Tightly directed by Harmon Jones and written by James Edmiston and Oscar Brodney, the film does sag a bit in the middle, but remains engaging nonetheless. And there are also a couple of surprising twists.
Along with David, award-winning author and New York times best-selling author of FIRST BLOOD and MURDER AS A FINE ART, our group includes Johnny D. Boggs, a record eight-time Spur Award-winning author, Kirk Ellis, Emmy-winning screenwriter and producer of the TNT mini-series INTO THE WEST and HBO's JOHN ADAMS, and Robert Nott, award-winning journalist and author of THE FILMS OF BUDD BOETTICHER.