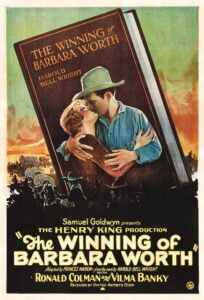 For our June Western Night feature, Johnny D. Boggs selected THE WINNING OF BARBARA WORTH (1926).
This silent film tells the epic tale of a New York engineer sent out West to tame the mighty Colorado River with the promise of bringing water to the California desert to turn it into a prosperous paradise, but avaricious motives are soon revealed. There's also a love triangle with Willard Holmes (Ronald Coleman), the stodgy engineer, vying with rugged cowboy Abe Lee (Gary Cooper) for the affections of child of the desert, Barbara Worth (Vilma Banky).
Producer Sam Goldwyn paid the exorbitant amount of $125,000 for the rights to Harold Bell Wright's popular novel of the same name, convinced that with 3 million copies sold, he was "buying an audience of 10 million people."
Goldwyn hired Henry King (THE GUNFIGHTER, TWELVE O'CLOCK HIGH) to direct and Frances Marion (THE WIND) to adapt Wright's novel to the screen.
Some of the dialogue (on cards) catches you off guard. Early on in an attempt to impress Barbara, Holmes tells her, "You don't belong here among these human cactus plants." Later, she tells him that, to the people living in this desert, he's "an angel from heaven." He responds straight-faced, "I'm really only the engineer for a soulless corporation bent on making big money quick."
Coleman and Banky do have chemistry together. Coleman would enjoy a long, steady career while Hungarian-born Banky's thick accent would stifle hers with the advent of talking pictures.
Gary Cooper had been in more than a dozen films by 1926, but only as an extra or in uncredited bit parts. One story goes that Cooper, already hired as an extra/stunt man for this film, got his big break when actor Monte Blue did not show up on the set.
Another story says that screenwriter Frances Marion saw Cooper leaning against a wall at the studio and was so impressed that she got hold of Cooper's screen test and those of other actors and showed them to a room full of female office workers at the studio. Their enthusiastic response to the tall, handsome young man convinced Goldwyn and director Henry King to give him the part.
Shot on location in Nevada's Black Rock Desert and California's Imperial Valley, the film features a spectacular flood sequence of Biblical proportions. Thanks to the deep focus cinematography of George Barnes (REBECCA) and Gregg Toland (CITIZEN KANE), you can almost feel the heat and taste the dust.
With a running time of 89 minutes, the film is available on DVD, for rental on Amazon Prime, and for free on youtube.
Along with Johnny, record nine-time Spur Award-winning author and Owen Wister Award winner whose latest work is A THOUSAND TEXAS LONGHORNS, our group includes Kirk Ellis, Emmy-winning screenwriter and producer of HBO's JOHN ADAMS and TNT's INTO THE WEST, Kirk's wife, Sheila, David Morrell, award-winning author and New York Times best-selling author of FIRST BLOOD, the novel that introduced the character Rambo, and Robert Nott, award-winning journalist and author of several books on Western films, including THE FILMS OF RANDOLPH SCOTT and his most recent THE FILMS OF BUDD BOETTICHER.
Watch the movie below and leave a comment with your thoughts!