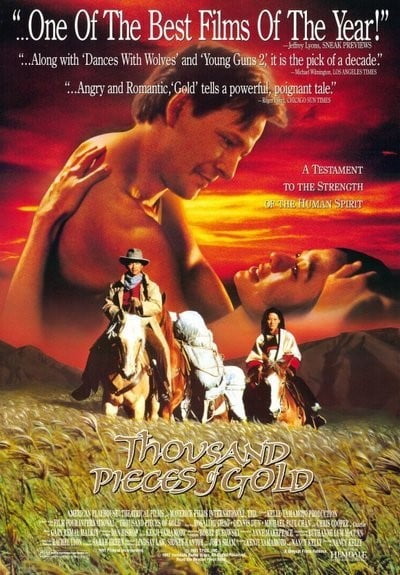 Our virtual Western Movie Night continued last evening welcoming our new member, Sheila Ellis. As her first choice, she selected the little seen THOUSAND PIECES OF GOLD, a remarkably unexpected Western.
Based on the biographical novel of the same name by Ruthanne Lum McCunn, it begins in 1880 in the draught-ridden hills of northern China and told from the point of view of Lalu, a young Chinese woman sold by her father into marriage to a trader who sends her to San Francisco only to be sold into prostitution and ending up in a mining town in the mountains of Idaho.
Released in 1991, this unsentimental film, harsh and realistic in its depictions of life and people in the old west, has a documentary style and feel, not surprising as both director Nancy Kelly and screenwriter Anna Makepeace are best known for their documentary work. Well-developed characters, some Chinese, some black and some white, and none all good or all bad, make for a believable and engaging telling. There's superb acting all around, particularly Rosalind Chao (MULAN) as Lalu who maintains her sense of pride even after terrible ordeals, Michael Paul Chan (MAJOR CRIMES tv series) as Hong King, a successful brothel owner, and a young Chris Cooper (LONESOME DOVE), playing Charlie, the saloon keeper who treats Lalu with respect rather than a commodity to be used.
Beautifully photographed with Montana filling in for Idaho, this film, though a little slow in places, is worth a viewing. It's available on Amazon Prime and DVD, though a remastered version may be released in June.
Along with Sheila, our group includes Johnny D. Boggs, record eight-time Spur Award-winning author of RETURN TO RED RIVER, David Morrell, award-winning author and New York Times best-selling author of FIRST BLOOD, Kirk Ellis, Emmy-winning writer and producer of JOHN ADAMS and INTO THE WEST, and Robert Nott, award-winning journalist and author of THE FILMS OF BUDD BOETTICHER.