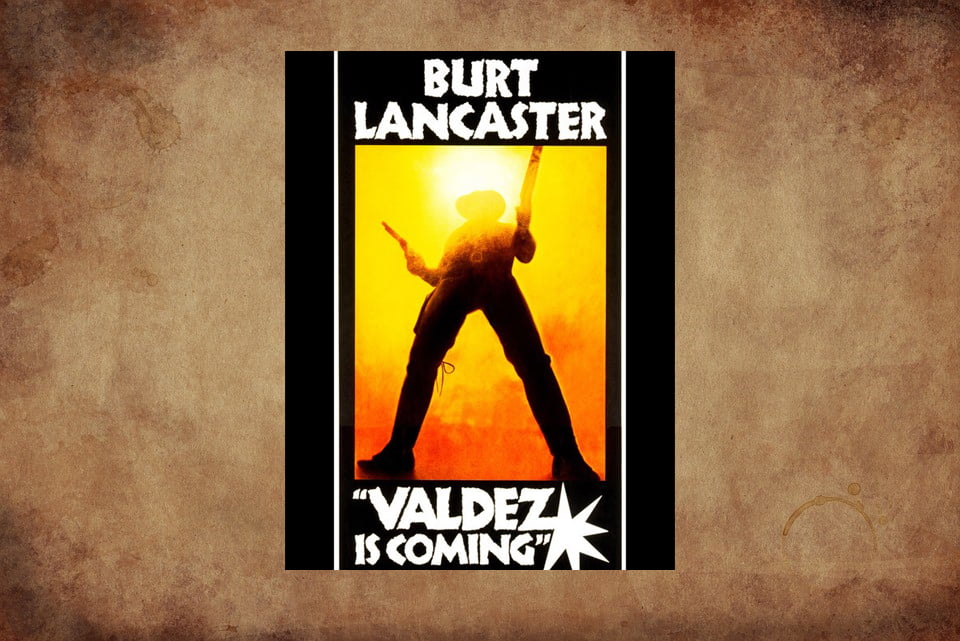 VALDEZ IS COMING (***1/2)
 Last night at our Western Night at the Movies gathering, it was my turn to choose the films and I brought VALDEZ IS COMING (1970). Based on the terrific novel by Elmore Leonard, VALDEZ is a gritty, hard, unromanticized Western.
A decent and past his prime Mexican-American constable, Bob Valdez (played by Burt Lancaster who was fifty-six years old at the time), is forced by circumstances to kill a black man that wealthy and arrogant rancher Frank Tanner (Jon Cypher) was certain was a murderer. As the innocent dead man has left behind his pregnant Apache wife, Valdez, feeling partly responsible, begins taking up a collection for the poor woman, believing it is only right and fair. He asks Tanner for one hundred dollars. Angered and insulted by the request, Tanner has Valdez humiliated and tortured. But Tanner's mistake is in underestimating the old lawman. Valdez sends Tanner a simple yet chilling warning. "Tell him, Valdez is coming."
Like Elmore Leonard's lean novel, the screenplay by Roland Kibbee and David Rayfiel allows grim determination to drive Valdez and Tanner. One acts out of honor and principle, and the other, out of selfish pride, but he also has a dozen gunmen on his payroll to do his killing for him.
Burt Lancaster, whose company produced the film, was coming off of three unsuccessful films in a row, THE SWIMMER, CASTLE KEEP and THE GYPSY MOTHS. Surprisingly, he chose Edwin Sherin, who had directed the Broadway hit THE GREAT WHITE HOPE but had never directed a movie, to helm this one. There isn't a false moment to be found.
Set near the Arizona-Mexico border, the film was shot in Spain on many of the same locations used by Sergio Leone in some of his earlier spaghetti Westerns, giving the film a desolate, almost hopeless look and feel.
And, if you like this film, I highly recommend HOMBRE (1967), also taken from an exceptional Elmore Leonard novel. In it, Paul Newman plays a white man raised by the Apache who is underestimated by outlaw Richard Boone. Our group watched it several years ago and I give it three and a half stars. Come to think of it, VALDEZ IS COMING and HOMBRE make a pretty good Western double feature.
Our Western Night group includes Johnny D. Boggs, a record eight-time Spur Award-winning author, Kirk Ellis, Emmy-winning writer and producer of JOHN ADAMS and INTO THE WEST, David Morrell, award-winning author and New York Times best-selling author of FIRST BLOOD, and Robert Nott, award-winning journalist and author of THE FILMS OF BUDD BOETTICHER.
"Valdez is Coming" Official Movie Trailer