WESTERN NIGHT AT THE MOVIES
SADDLE THE WIND (** ½)
THE MARAUDERS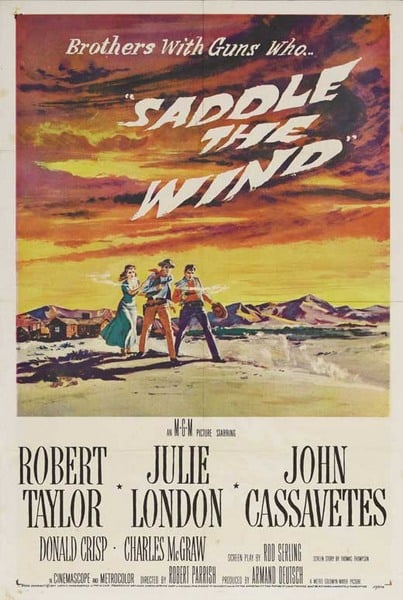 Our Western Night at the Movies group met last night and it was Robert Nott's turn to choose the films. The first was SADDLE THE WIND from 1958. This tale of two brothers, one a retired gunman (Robert Taylor) living peacefully as a rancher, and the other (a young John Cassavetes), wild and anxious to be a gunfighter, was written by Rod Serling. Released a year before his landmark television series THE TWILIGHT ZONE debuted, SADDLE THE WIND is something of a paradox, attempting to meld Old Hollywood with the upcoming New Hollywood.
After an engaging opening with gravel-voiced Charles McGraw as a gunfighter out to kill Taylor's Steve Sinclair, the film begins to meander. Cassavetes chews much scenery with his Method Acting style while Taylor remains stoic in the Old Studio style. And Julie London as the former saloon girl and Cassavetes' bride-to-be, all but drops from the story less than half way through, becoming little more than set dressing.
Serling had already found recognition with such television work as REQUIUM FOR A HEAVYWEIGHT in 1956 on Playhouse 90. It had a drive and passion that were undeniable and tightly presented. But SADDLE leaves you scratching your head, wondering what happened. It seems to be trying to make a statement about the toll of killing, but dull scenes play too often and begin to overwhelm the stronger ones. The Colorado locations, though, are majestically photographed by George J. Folsey.
I should mention that all of us in our Western Night group have brought stinkers, though not intentionally. Sometimes the mind recalls things differently, especially when we were much younger. A movie we enjoyed as a kid can come across quite differently looking at it through older eyes.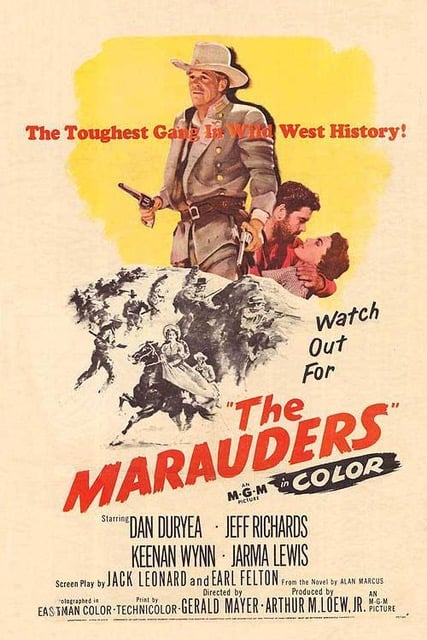 That said, Robert's second feature was THE MARAUDERS, also from MGM. Sadly, you find yourself laughing early on because it's so ludicrous, but soon, well, it's just plain bad. Released in 1955, it was produced by Arthur M. Lowe Jr., the grandson of Marcus Lowe, founder of MGM studios, and directed by Gerald Mayer, the nephew of MGM studio head, Louis B. Mayer.
In the script, written by Earl Felton (20,000 LEAGUES UNDER THE SEA), Jack Leonard (NARROW MARGIN) and Alan Marcus, a loner named Everett (Jeff Richards) lives in a ramshackle adobe at the end of box canyon. This parched patch of land belongs to a wealthy landowner, but now Everett has found water on it, making it very valuable. And the owner wants Everett gone, so he hires some gunmen to run him off.
The leader of this band of marauders is Avery, (Dan Duryea, so good in BALL OF FIRE and WINCHESTER '73) suffering from consumption and wearing his dead brother's Confederate officer's uniform. His second-in-command, played by Keenan Wynn, is called Hooky because he has lost his right hand and replaced it with, yes, a hook. While we found unintentional humor in some of the dialogue ("Leave your guns here, we might need them later") the film comes to a bizarre climax (SPOILER ALERT!) with the bad guys dismantling a wagon, hauling it up the rocky hillside, reassembling it, setting it on fire and sending if down the hill toward the adobe. Meanwhile, Everett has built a bomb-throwing catapult out of a kitchen table and wagon axle.
Our group includes the aforementioned Robert Nott, award-winning journalist and author of biographies about Western icons Randolph Scott and Joel McCrea, as well as coauthoring a memoir about Sam Peckinpah with Max Evans; Johnny D. Boggs, Spur-winning author of RETURN TO RED RIVER; David Morrell, award-winning author of FIRST BLOOD; and Kirk Ellis, Emmy-winning writer and producer of JOHN ADAMS and INTO THE WEST.