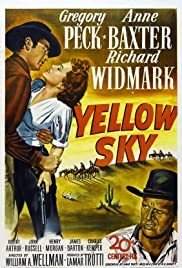 David Morrell chose the tough, tense and engaging YELLOW SKY (1948) for our April Western Night at the Movies viewing.
This story of dust, lust and avarice set in what remains of the grim and gritty desert town of Yellow Sky concerns a mangy band of outlaws on the run after robbing a bank and in need a place to hide out. Led by Stretch Dawson (Gregory Peck), the outlaws include elegantly dressed Dude (Richard Widmark) and Half Pint (Harry Morgan).  Then the appearance of tough, scrappy Constance Mae, nicknamed "Mike" (Anne Baxter), and her wily Grandpa (James Barton), who have been mining gold nearby for a long while, signals trouble for all involved.
The film has a reputation of being loosely based on Shakespeare's THE TEMPEST, but aside from the setup of Dawson's gang wandering out of the desert and into this shambles of a town, the comparison, such as it is, abruptly ends.
As written by Lamar Trotti from a book by W.R. Burnett, the film bears a much stronger resemblance to a crime noir film from the 30s and 40s. And well it should as Burnett wrote plenty of them, including LITTLE CEASAR, SCARFACE and THIS GUN FOR HIRE, to name a few.
Director William Wellman, known for both crime films (THE PUBLIC ENEMY) and Westerns (THE OX-BOW INCIDENT, WESTWARD THE WOMEN), knew how to tell a taut tale, often in stark visceral terms. There's also an uncomfortable and unfortunate sequence of Dawson attempting to rape Mike but ends with a surprising bit of well-aimed marksmanship.
The high contrast black-and-white photography by Joseph MacDonald is sharp, adding to the Western-noir texture. The performances are all excellent. In particular, Peck makes for a convincing bad man here, something he would go on to add intriguing psychological dimensions to with THE GUNFIGHTER two years later.
With a running time of 98 minutes, YELLOW SKY is available on Blu-Ray, DVD and youtube.
Along with David, award-winning author and New York Times best-selling author of FIRST BLOOD that introduced the character Rambo, our group includes Johnny D. Boggs, record eight-time Spur Award-winning author and Owen Wister Award winner whose latest work is A THOUSAND TEXAS LONGHORNS, Kirk Ellis, Emmy-winning writer and producer of HBO's JOHN ADAMS and TNT's INTO THE WEST, Kirk's wife, Sheila, and Robert Nott, award-winning journalist and author of several books on Western films, including his recent THE FILMS OF BUDD BOETTICHER.