William Friedkin: Films of Aberration, Obsession and Reality
William Friedkin's Films: Contentious and compelling successes and failures. Often I'm asked why I wanted to write a book about the films of William Friedkin. It's a simple answer. I love movies; always have, and no one had done a thorough study of Friedkin's films. I think The French Connection, The Exorcist and Sorcerer are three of the finest films ever made. Films, in my mind, as important and as significant as Orson Welles' Citizen Kane, David Lean's Lawrence of Arabia, and Sam Peckinpah's The Wild Bunch.
When I met William Friedkin at his office in Burbank in September of 1979 to discuss my proposal of a book on his films, he said he was not interested in participating "unless it's honest, otherwise it's just a waste of my time." Relieved, I assured him that a serious study was exactly what I wanted to do. He then asked me what I thought of his films. I told him I had not yet seen his early documentary or television work.
Click for More about William Friedkin
Then I began naming off his films, telling him what I liked, did not like, and briefly why. I felt nervous. He had asked for honesty. It was too late to stop now and I wasn't going to lie to him. He sat behind his desk, listening quietly, never looking away from me. When I finished, he said, "That sounds fair. I'd agree with that assessment." So began years of research for my book, William Friedkin: Films of Aberration, Obsession and Reality. A film sense is a difficult gift to define. It's like pornography–you know it when you see it. Visually telling a story, layering it with style, drama, and themes partly make up a film sense. Another part is passion, possibly the most important, for it cannot be learned. It's the human part. William Friedkin, the Academy Award-winning director of The French Connection, has that film sense, that passion. The book I wrote is a critical examination of his work, beginning with his television documentary days in Chicago in 1955 through the re-issue of The Exorcist The Version You've Never Seen in 2000. Interviews and biographical information are used to take us from one film to the next, discussing the background, circumstances and sources of each, as well as exploring their aesthetic, dramatic and thematic qualities. Friedkin, who worked his way up in a Chicago television station from mailroom employee to director of local live broadcasts while still in his teens, was determined to make films. His documentary, The People Versus Paul Crump, about a black man sitting on death row for a robbery and murder he may or may not have committed, set forth the thematic preoccupations of many of his films. Hollywood beckoned. His first feature films were Good Times, starring the pop singing duo Sonny and Cher, The Night They Raided Minsky's, The Birthday Party, and The Boys in the Band, based on Mart Crowley's successful Off Broadway play about gay relationships that established Friedkin as a filmmaker willing to tackle controversial topics. The French Connection, about street-smart cops and suave drug pushers, thrust Friedkin to the apex of his career. The Exorcist followed, one of the top grossing films of all time and one of the most controversial. Many consider it the best horror film ever made. With carte blanche because of his extraordinary successes, Friedkin re-made the H.G. Clouzot film Wages of Fear under the new title Sorcerer. Much maligned, Sorcerer may well be Friedkin's most physical as well as his most personal film. After the critical and commercial thrashing he took on Sorcerer, Friedkin's career began a downward spiral. The Brink's Job was an innocuous picture about the buffoons who robbed the Brink's in Boston in 1950. Cruising examined the ambiguities and blurred meanings of sex and aggression within the framework of a murder story set in the gay leather subculture and created a firestorm of controversy. After that came Deal of the Century, an unfunny comedy about arms dealers. Friedkin returned to the gritty streets with tough Secret Service agents tracking a deadly counterfeiter with To Live and Die in L.A. Then came Rampage, The Guardian, Blue Chips and the murky sexual murder mystery Jade, as well as the "Nightcrawlers" episode for the 1985 television series The Twilight Zone, and several movies for television. Friedkin remade the 1957 courtroom drama, 12 Angry Men, and then directed Rules of Engagement, about the consequences of courage and the dark side of heroism. After that, he went back to the editing room and added footage to arguably his best film resulting in The Exorcist The Version You've Never Seen. Since the publication of my book, he has directed The Hunted, Bug and the black comedy Killer Joe. The body of work of this talented filmmaker deserved examination. His unique vision–fatalistic, violent, realistic–has resulted in some of the most contentious and compelling successes and failures in American films.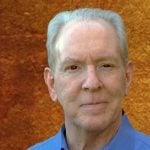 Tom has always had a love of the West, of film and of writing. Born and raised in San Diego, California, he attended the University of Southern California. He spent more than twenty years in Hollywood working as an assistant film editor, as well as freelance writing. Devoting himself to writing historical fiction full-time, he and his wife Marilyn moved to Santa Fe, New Mexico, where they adopted their cat, Cody, whom they are home schooling with great success.