It was Kirk Ellis' turn to curate at our Western Night movie gathering last night and he chose THE CLAIM released in 2000. Inspired by British writer Thomas Hardy's novel THE MAYOR OF CASTORBRIDGE, THE CLAIM is set during a bleak winter in the Sierra Nevada Mountains and tells the story of a man who chose to sell his wife and infant daughter for a gold claim and what happens when mother and daughter return some eighteen years later.
The man is Dillon (Peter Mullan), an Irish immigrant, and he has set himself up as the mayor of the mining town of Kingdom Come. The railroad is coming, and he wants it to establish a railhead in his town where his sheriff enforces the law and his girlfriend runs the bordello.
But the arrival of Elana, (Nastassja Kinski) suffering from tuberculosis, and her teenage daughter Hope (Sarah Polley), cause Dillon to decide whether or not to do right by his daughter.
Directed by Michael Winterbottom, (who courted controversy with his lurid adaptation of the Jim Thompson noir novel THE KILLER INSIDE ME ten years after making this film) and written by Frank Cottrell Boyce, there are no obvious good guys or bad guys exactly. Rather, the film is peopled with characters, some better and some worse than others, but each desiring something and how they go about getting it–or not–propels the story. Greed, lust, anger and other deadly sins are on display here.  
Shot on location in Canada and Colorado, every frame is both sharp and stunning. One sequence, in particular, shows men and horses dragging a three-story octagon-shaped house through the snow, and standing on the second-story balcony is Dillon like some magisterial stagecoach driver, driving the men and animals forward.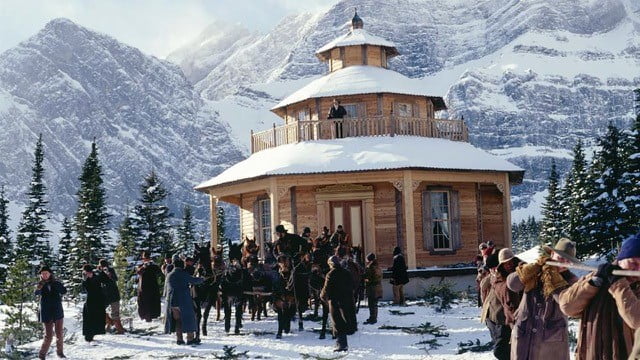 Admittedly, I found myself a little bored from time to time, mostly from the measured pace of the telling (others might just call it slow), and some of the dialogue is hard to catch through the thick accents. In the end, however, in spite of my reservations, I still found this to be one of the most haunting films I've ever seen.
After a quick check online, I found the DVD is available on Amazon.
Along with Kirk, Emmy-winning writer and producer of HBOs JOHN ADAMS and TNTs INTO THE WEST, our group includes Johnny D. Boggs, record eight-time Spur Award-winning author whose works include RETURN TO RED RIVER, David Morrell, award-winning author and New York Times best-selling author of FIRST BLOOD, and Robert Nott, award-winning journalist and author of biographies about Western film icons Randolph Scott and Joel McCrea, as well as co-authoring a memoir about Sam Peckinpah with Max Evans.